Making headlines in care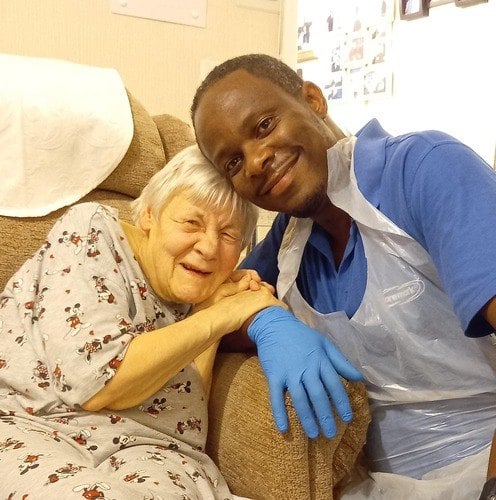 An asylum seeker who was forced to give up his job as a journalist and flee his native country is now making headlines in care with Caremark Leeds.
Pauni Doudou was a journalist and radio presenter in the Democratic Republic of Congo but was forced to flee with his family when the authorities threatened their lives.
He arrived in Britain 12 years ago and was overwhelmed by the support he was shown.
Granted leave to remain, he gained a degree in working with children, young people and families at Bradford University and works a variety of shifts as a carer with Caremark Leeds.
"I was so touched by the support I received when I arrived here I decided the best way I could repay that was to dedicate myself to helping other people in need," said Pauni.
He applied to a number of companies and was impressed when Caremark got back in touch.
"They were the first company I heard from and they offered me an interview. I have been working in home care for four years now because they are good to work for and I have become attached to the customers and the job."
Pauni's work pattern includes the bedtime shift which involves visiting customers like Kathleen, checking on their wellbeing and helping them to get to bed.
"Kathleen's condition means it is really important that she is in the right position in bed. If she is she will have eight hours good sleep, if not she won't sleep all night, explained Pauni. "I'm twice Kathleen's size and strong so I'm able to support her to get into bed safely."
Home care also means Kathleen is able to make regular trips out to enjoy visiting local tea shops or a weekly treat of fish and chips.
At home she enjoys watching TV with Murder She Wrote and Highway to Heaven amongst her favourites.
Pauni says the companionship aspect of the job is as important as the medical. "Kathleen and I both like to talk so we have a good laugh together. Some customers will talk about sport or what they have been up to or seen on TV, being able to strike up a conversation and to listen is a big part of the job."
He believes that empathy and being prepared to go the extra mile is important – and that the job satisfaction make it worthwhile.
"Little things, like bringing a loaf of bread if they have run out, make such a difference," said Pauni. "It is lovely to be able to help people and put a smile on their face. Hopefully they feel it is still beautiful to be alive. I get great personal reward from the job, I can go to sleep at night knowing I have done a good job and helped someone."