Grants available for Elderly Community Groups in Dartford and Gravesend area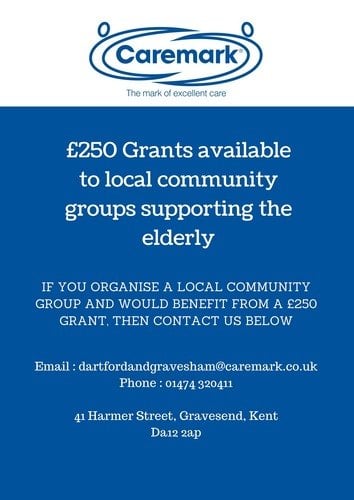 Caremark Dartford and Gravesham have set up a community fund and grant for groups that support the elderly population of Dartford and Gravesend. £250 will be given every quarter to a local group, as a grant, to provide a helping hand for the great work they do for our community in Dartford and Gravesend.
Over the last month, Caremark Dartford and Gravesham have been kindly invited to numerous community led groups and have been inspired by the amount of effort and hard work that goes in to successfully running these groups.
Caremark Dartford and Gravesham are committed to promoting independence and encouraging the elderly community to keep active and socialise with others. This grant will allow further activity amongst the community groups and also highlight the great work that they do. Isolation and lack of social support can really impact one's mental wellbeing, but we believe through the promotion of this grant, we are able to highlight the groups /activities available to our elderly community.
If you run a community group for the elderly within Dartford and Gravesham or know someone that does, please let them know about our grant and ask them to get in touch on 01474 320411 or email at dartfordandgravesham@caremark.co.uk . All we ask is that you tell us about the great work you do, so we can tell others. Grants are given based on current needs and project funding requirements.
Please use the #caremarkd&g and share with your friends and family. Let's support our local community.