Dementia: Eating and Drinking Well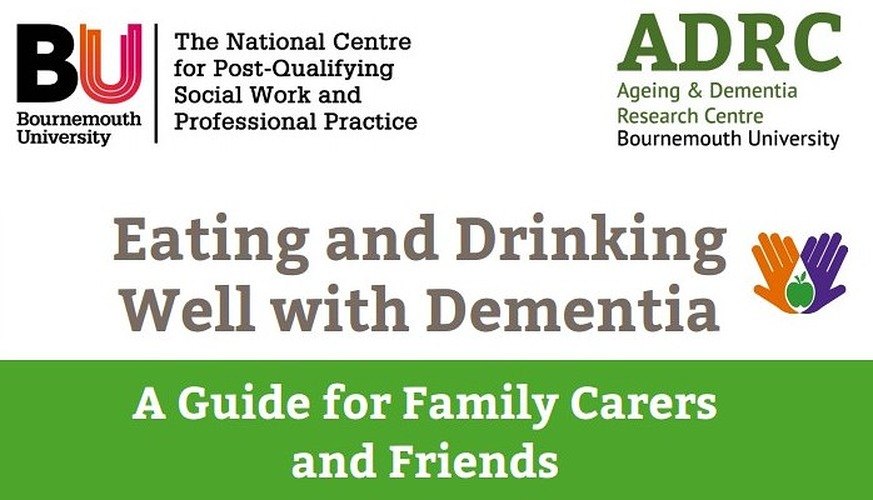 In this article we explore research from Bournemouth University that has provided advice to family carers and friend of people living with dementia. This research focuses on Nutrition and Hydration, which can become more and more difficult as dementia progresses. The aim of this advice is to help mealtimes continue to be an enjoyable experience.
A summary of the guide
Why is it important for those with dementia to eat and drink well?
In individuals with dementia, there is an increased risk of weight loss and dehydration. These can lead to a number of health issues, such as dizziness and confusion that will increase the risk of falls. Ensure the person with dementia has a balanced diet, and drinks plenty of fluids, i.e, water, sugar-free drinks, milk, squash, juices, tea and coffee. It is recommended to drink 6-8 glasses a day.
What challenges may you encounter?
Additional challenges occur when there are other health conditions which means special diets are required. For example, there is a high prevalence of swallowing problems, or dysphagia, in older people with dementia. Other health conditions may include diabetes, coeliac disease and high cholesterol.
Given changes in the brain, people living with dementia may develop a stronger preference for sweet foods. This means that good mouth care practices are essential. Furthermore, the enjoyment and recognition of food is also affected as dementia progresses, due to reduced abilities to see, smell and taste.
There may be days when a person with dementia changes their mind as to their food preferences, and communicating these preferences becomes more and more challenging. Therefore, good verbal and non-verbal communication on a regular basis is necessary to adapt to changing likes and dislikes.
Top tips from the research
A "food first" approach is the best way to encourage food and drink intake.
Take time to prompt the person with dementia to drink, or make them one without always asking.
Encourage independent eating for as long as possible, such as providing a spork, allowing sufficient time to eat and putting food on the table so the person can serve themselves
Make mealtimes a social experience – engage in conversation – topics could include childhood memories of food, war time rationing, cooking for their family and past meals that were special e.g. birthday dinners.
The better the presentation, the more appealing the food. Use bright colours, different textures, and use the right size plates.
Plan food-related activities to make the experience more engaging. For example, setting the table, preparing vegetables, food tasting with samples of different items, growing your own vegetables, walking in the garden etc
An alternative to meal may be a health array of finger foods, in bite size chunks at room temperature. Options could be vegetable batons, tofu cubes, mini pizzas, chunky chips, sandwiches etc.
Also important to note
You must provide a relaxed environment for eating, with no distractions. Try to avoid putting on the TV or completing noisy household tasks such as hoovering during mealtimes. You may opt to play some soothing music such as waves crashing, in order to prompt that it is time to eat.
Make sure you look after yourself too, your needs as just as important as the person you care for. During the day, have a balanced diet, drink plenty of fluids and take some exercise regularly. These activities can be completed with the person living with dementia. Also, don't be afraid to ask for help, because help is out there! There are family, friends and wonderful paid carers who are willing and able to give you a break and make your lives easier.
Resources
There are also charities that provide free support and advice on their helplines and websites, such as:
Age UK click here or call 0800 678 1602
Dementia UK Admiral Nurse Dementia click here or call 0800 888 6678
Carers UK click here or call 0800 808 7777
For more information on this Bournemouth University project, please click here. On this page, you will find a video recorded by Professor Jane Murphy, one of the authors of the research, discussing the topic further.