A little support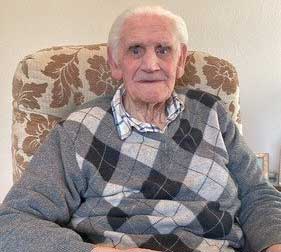 After a lengthy stay in hospital, Roy Berwick needed a little support to enable him to return home, so that's when he was introduced to Caremark Leeds.
Roy was admitted to Leeds Infirmary after breaking his hip in a fall. Whilst in hospital he caught an infection which saw him transferred to intensive care. He battled through and after 16 weeks was allowed to return home though he had suffered severe loss of mobility.
"Basically, I'd been in bed so long there were problems with my circulation, and I'd lost the use of my legs," says Roy. "Things are improving but it's a slow process."
Roy, 89, has a godson and a nephew who visit regularly but can't be there every day, so he also has a visit from Caremark Leeds every morning.
"They set me on the right track for the day," says Roy. "My care assistant brings me a paper, makes some breakfast and a sandwich for my lunch later on and does a bit of tidying up for me."
Roy has high praise for his regular care support, Shamim. "Her whole attitude is excellent. She is a caring person who will listen and look to understands people's problems and help them," says Roy. "It's lovely to have a chat because some days she is the only person I get to see. It makes a big difference to the day."
After National Service in the Royal Signals, Roy spent his working life with Post Office Telephones and then British Telecom and played rugby league in his younger years.
He recently clocked up 75 years as a member of Leeds Rhinos supporters club and was interviewed about his experiences as a fan for a book about the club. Chairman Gary Hetherington was so impressed by Roy's devotion to the club he gave him a tour in his wheelchair of the Headingley Stadium
"I've always liked rugby league and now I'm home I can enjoy the sports channels on television and follow the Rhinos," said Roy.