Caremark Worcester Rewards new Care Assistants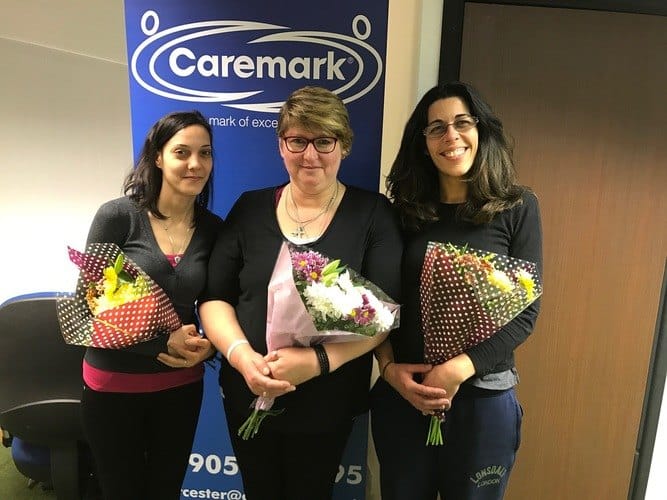 We really appreciate the hard work that our new Care Workers put into their training, which is why we presented our new recruits with bunches of flowers once they completed the course.
(pictured left to right: Raluca, Carol & Ligia)
We are always on the lookout for new people to join the Caremark (Worcester & Malvern Hills) team. A properly trained care team will help us provide a quality home care service in the area, and we recognise that these people are the face of the company. They are an essential part of what we do in the community and how people see our service provided on a daily basis.
Managing Director David Balmer commented, "We can go from strength to strength by having a team mentality in every aspect of Caremark (Worcester & Malvern Hills). The flowers are just a part of the recognition they deserve for completing the office based training and the hard work put in.
"With small gestures and encouragement to the team, they are without doubt going to feel more comfortable at work and therefore provide even better care for our customers."
Every Care Worker completes Care Certificate training before being introduced to our customers, including an introduction by the directors before beginning work on their Care Certificate. Once they have completed their online and practical training, our new recruits were presented with flowers. They have all left feeling comfortable with their new place of work and ready to start their shadowing.
Welcome to all who have completed their training with us and who are now ready to provide a great service in Worcester & Malvern Hills. If you would like a Care Worker job in Worcester, please call the office on 01905 452595.