Caremark Pulborough attend fundraising event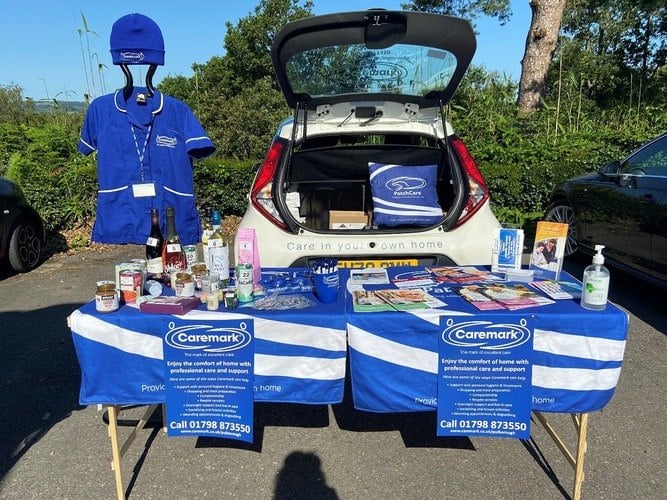 They have never ceased being out in the local community, caring for people in their own homes during the pandemic, but it's been some time since they have been able to attend a community event.
The Management Team were happy to get the word out about the extensive range of services on offer to those who need it, in their own homes across the Pulborough and Horsham areas of West Sussex.
The Car Boot Fair, fundraising for Watersfield Village playground, was hosted by Lodge Hill Outdoor Centre. The venue was bathed in sunshine all day and the perfect place for Caremark to engage with the community in a most picturesque setting, nestled in the heart of the beautiful South Downs National Park.
Assistant Care Manager, Allison Smith (pictured) had this to say: "It was such a lovely day to be engaging with the local community." Allison was joined by Care Manager Tara Mair who enthused about being allowed to attend community events now Government restrictions around COVID-19 are lifting: "We wanted to make the community aware of our services for the vulnerable, from children to adult services, those with disabilities and those who just need companionship, from a single call to full-time live-in care."
Allison, who went onto explain the merits of sunscreen, due to sunburn on the day, also added: "It was fantastic to get out and meet people after all this time being unable to due to restrictions around Coronavirus, we were able to talk to so many people about our services, but also a truly rewarding career with us, as we are currently recruiting for Care & Support Workers throughout the area."
The Caremark Team were delighted to attend the fundraising event and Allison went onto say: "We met some lovely people on the day and had lots of lovely compliments about what a wonderful job our care workers do. A couple of people knew some of our previous customers and thanked us for our support. It was great to support this charitable event alongside other community services such as Cancer Support."
If you would like to find out more about the services on offer at Caremark Pulborough then please click here, or to find out more about a career with Caremark Pulborough, please click here.