Care Workers Receive Their Certificates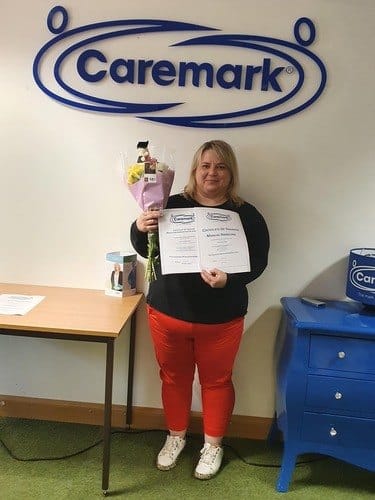 We have had some new faces in the training room for their Care Assistant inductions.
Caremark Full Care Assistant Training Program
Caremark Worcester, Malvern, Wychavon and Wyre Forest have a huge training and recruitment center in Worcester and it is great to see so many people coming in, interested in what the industry has to offer, finding out about the benefits of working in the care sector and what Caremark has to offer for people both new to the industry and people who have been in Health and Social care for a while.
Caremark recruit their Care Assistants based on personality and not just experience, this is down to the caring and social aspect of the role.
All new faces at Caremark receive training whether they have a certificate in care be it the Care Certificate or a diploma in care. It could be that someone new to the industry has the full Care Certificate program to help enable them to be trained and comfortable in their new role.  Once certified, there is plenty of opportunity to further your knowledge in the sector with over 50 online courses with their own specialisms including ;
Fire Safety for Domiciliary Care
Fire Safety LITE
First Aid
First Aid LITE
Food Hygiene
Food Hygiene LITE
Health and Safety
Infection Control
Infection Control LITE
Medication Practice
Medication Practice for Domiciliary Care
Medication Practice LITE
Moving and Handling
Moving and Handling LITE
Safeguarding and Protection of Adults
Safeguarding and Protection of Adults LITE
Falls Awareness
Care Certificate Assessor Tutorial
Induction Autism
Induction Dementia
GDPR Stage One
Induction Learning Disability
Induction Lone Working
Induction Mental Health
Accessible Information
Anxiety
Appraisal
Autism
Basic Life Support
Behaviours That Challenge
Buccal Midazolam
Care Planning
Catheter Care
Communication
Complaints Handling
COSHH
CYP: Introduction to Supporting Children
CYP: Safeguarding Children and Young People
CYP: Development of Children and Young People
CYP: Health and Safety for Supporting Children
Dementia Awareness
Depression
Diabetes Awareness
Dignity in Care
Duty of Care
Dysphagia
Eating Disorders
End of Life
Equality, Diversity and Inclusion
Hand Hygiene
Information GovernanceLearning Disability
Legionnaires' Disease
Lone Working
Managing ContinenceMental Capacity Act and DOLS
Mental HealthMotor Neurone Disease
Multiple Sclerosis
Nutrition and Hydration
Oral Care
Person Centred Care
Parkinsons Disease
Personal CarePositive Behaviour Support
Pressure Area Care
Prevent Extremism and Radicalisation
Professional Boundaries
Recording Information
RIDDOR
Risk Assessment
Self-Harm
Sepsis
Stroke Awareness
Substance Misuse
Supervision
Wellbeing in the Workplace