What is Parkinson's and how can Caremark support you?
Caremark support a number of customers with Parkinson's and given it is Parkinson's Awareness month, we wanted to raise awareness of the condition which affects 1 in 100 people over the age of 60. We will share a little bit about the condition, how this affects individuals and how we can best support those suffering with this disease.
What is Parkinson's?
Parkinson's disease is a neurodegenerative disorder and symptoms normally develop slowly over the years, and can be quite different from one person to another. The main 3 symptoms of Parkinson's are:
· Involuntary shaking of particular parts of the body (tremor)
· Slow movement
· Stiff and inflexible muscles
Whilst it will always depend on the individual and how advanced the Parkinson's is, we have found that progression of this disease is slower compared to others, with mobility deteriorating gradually over time. There are also many other symptoms which can vary from customer to customer, such as low blood pressure, impaired speech and also dementia.
A wide range of other physical and psychological symptoms include:
· Depression and anxiety
· Balance problems
· Loss of sense of smell
· Problems sleeping
· Memory problems
People with Parkinson's have a higher than average risk of developing dementia and Parkinson's disease dementia accounts for 2% of all cases of dementia in the UK.
Caremark offers a range of care and support to customers with Parkinson's with the aim of encouraging mobility and independence for customer's who are suffering, and managing the condition to enable a good quality of life.
Often family members will support their loved ones as the primary carer, however Caremark carers can also step in to provide the care or to offer respite for family members who may be tired and in need of a break.
Clients in the earlier stages of Parkinson's are still quite independent and may only require little support. As mobility deteriorates, however, individuals tend to require more assistance and may even require two carers going in regularly to support with personal care, meal preparation and medication. The level of support each individual requires can vary a lot and we would carry out a detailed needs assessment to determine what would be required in each case.
We work closely with relevant specialists such as physiotherapists, specialised Parkinson's nurses or speech/special and language specialists where required to manage care effectively and to ensure that we are supporting each individual in the best way to each the desired outcomes.
Our carers all receive Dementia Awareness training to ensure they have the tools they need to support our customers who suffer with memory problems and more advanced forms of dementia.
With the right level of support, it is possible to manage the condition positively in a way that allows individuals to live life fully and independently. In fact, we have helped some of our customers improve to the point where their mobility is significantly improved, or they require less care!
Case Study 1, Client D
When one of our customers', A, joined us after being discharged from hospital, he was bed-bound and we were providing all care for him from bed. Client A was adamant that he wanted to move about and this was really affecting his self-esteem and confidence. We worked closely with A's physio to make a plan to support A's mobility, ensuring that we were prioritising his health and safety and balancing this against his desire to be independent. At first this was quite limited due to his low blood pressure, but as soon as this started to stabilise, we were able to start encouraging him more.
We started by getting A to sit up in bed with his legs to the side, and gradually started encouraging him to walk. Within just 4 weeks, his mobility improved considerably and was able to start getting out of bed and walk slowly to the living room using a walking aid. We provide two carers, 4 times a day to assist A and he is now in a much better place, and so much happier that he is more independent and able to get out of bed.
"All the carers are lovely and chatty which cheers up A, and me and A are exceptionally happy with the care and service provided by Caremark." – Wife of customer A
We supported one of our customers' (D), sadly now deceased due to unrelated causes, for a year. When customer D started with us, he was bed-bound and required two carers to support him four times a day. We had to support D with everything, including meal preparation and within 2 months' he improved to the point he only needed a single carer to attend his care calls. This was a significant achievement and we were delighted to be able to reduce his care calls to three times a day as D was able to get up and make his own lunches.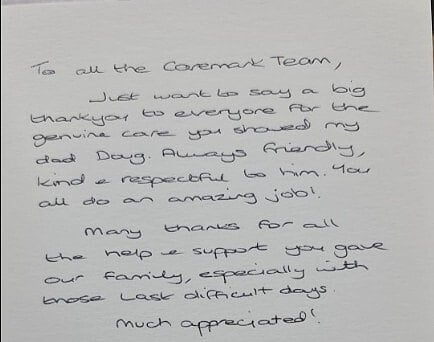 We love being able to support our customers, promoting their independence and ensuring we enable the quality of life they deserve!
If you are interested in finding out more about how we might be able to assist you or a loved one, please don't hesitate to call us on 01474 320 411 or email dartfordandgravesham@caremark.co.uk.