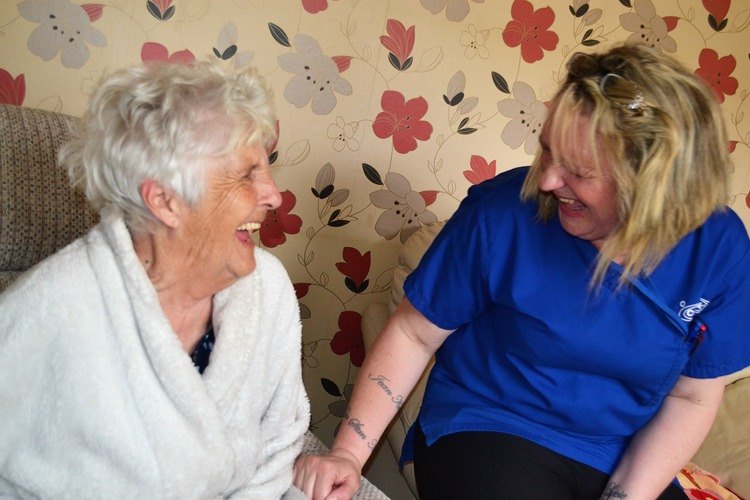 04 Jul 2018
A day in the life of a carer
Welcome to a typical day in the life of one our carers, Jean Milburn
A typical day in the working life of Caremark (Redcar and Cleveland) carer Jean Milburn begins with a 7.15am call to a client in Redcar, the town where she lives.
After making another call, she then arrives at 9.20am at the home of Tom and Chris Ford.Tom has dementia with Lewy Bodies, an aggressive form of dementia, and Parkinson's Disease.
Chris is Tom's carers, but Caremark support her with two 30-minutes visits each day.
When Jean arrives she begins chatting with Tom and even though he not able to respond, you can see the recognition in his eyes. Jean continues chatting to Tom about what he had to drink this morning and how he is feeling and together with Chris they help him out of bed and into a wheelchair.
Jean then showers Tom, joking first that he needs to take his shirt of unless he wants to be in wet t-shirt competition!
After drying and dressing him, Jean then feeds Tom his breakfast whilst continuing to chat to him and Chris.When the 30 minutes is up, and after ensuring Chris and Tom have everything they need, Jean says goodbye and drives to her next appointment a few minutes away.
Here she says good morning to Pat Moore. This 30-minute call couldn't be any different than the one with Tom and Chris.Pat, despite suffering from arthritis in her hands and a lack of mobility in her legs caused by a fall a few years ago, is still very independent, but requires support with a bit of tidying and filling the kettle because she finds this difficult to do herself.
Mainly though, this call is about company.
Pat admits she can talk so her and Jean put the world to rights over the next 30 minutes and a have a laugh or six.
At 10.30am, Jean bids Pat farewell and now has a few hours spare before her next appointment at 1.30pm.
She will go on to make a further 9 calls, all very different in their own ways, and with a breaks here and there and squeezing in time to meet her NVQ assessor (she recently passed her Level 2 in Health and Social Care), she will finish her last call at 10.10pm that evening.She does this five days a week, including an overnight stay on a Friday where she provides care for a couple in their 90s who both have alzheimer's/dementia.
Every carer employed by Caremark (Redcar and Cleveland) can choose how much, or little, they work, but Jean says she likes to be kept busy and caring for people comes naturally to her.
She explains: "When my children no longer became dependent on me, I was looking for a job and after caring privately for a lady in her own home, who subsequently went to assisted living accommodation, I started working for Caremark in 2016.
"I love meeting people and hearing their different stories and helping people comes naturally to me.
"The job's very varied, with Tom and Pat being very good examples of this, and I get a lot of personal fulfilment from it.
"It's a very flexible job so I could work less hours if I wish, but I prefer being busy and I use the time in between calls to do things like pick my grandkids up from school or to pop home to put the washing out.
"Caring is a great profession and if you really get into the job it is so rewarding. I look upon the people I provide care for as part of my extended family and I thoroughly enjoy what I do."