Caremark People – Krystal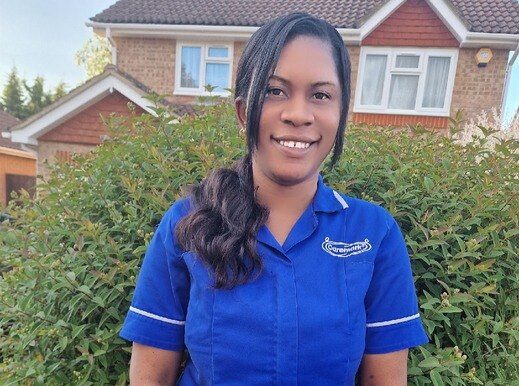 During her six months with Caremark Bromley, Krystal Blake has discovered it's the simple things in life that can make all the difference.
"It has been such a positive experience and I've found it can often be the small things that matter the most to people" says Krystal.
"The other day I washed the hair of an old lay and she was so grateful, she said it had made such a difference, made her feel so much better."
After completing her education in Jamaica, Krystal had been working as a secretary but had always wanted to work as a nurse and studied healthcare at college.
She emigrated to the UK with her fiance in 2019 but when Covid struck she had to put wedding plans on hold and found it difficult to find a job with the country in lockdown.
Krystal, 27, applied for a post in home care support believing the role will give her valuable practical experience of working with people in need.
"It has been a very positive experience for me," says Krystal. "A lot more variety than I imagined and different situations to deal with, a very fulfilling role."
Krystal says a big plus about joining Caremark has been the company's support of training and development.
"When I was new I was able to shadow an experienced mentor to learn the job," she said. "I'm also really pleased that Caremark will be funding my level 3 in nursing qualification so I can study whilst working and earning."
Now settled at work and having been able to get married, Krystal hopes to tick off some other things on her to do list.
"I haven't really had a chance to see much of England since moving here so I'm hoping to do that over the summer – I want to see the sights of London, especially the London Eye."