Caremark Maidstone holds its first Dementia Cafe!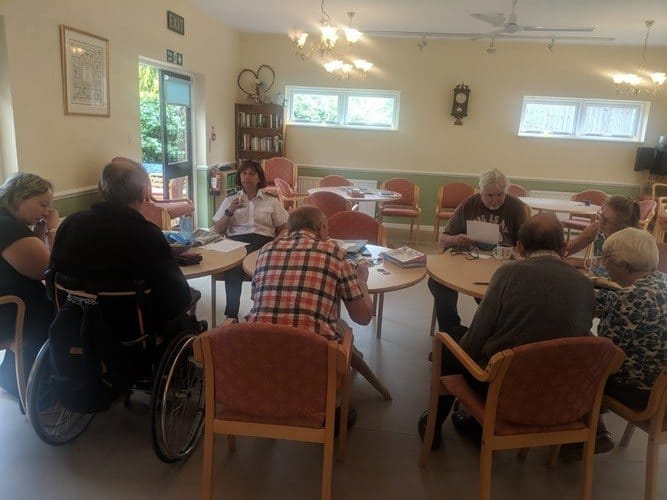 Wednesday 7th August saw the first of many Dementia Cafe sessions held by Caremark Maidstone at the McCabe Centre in Staplehurst.
As a Dementia Champion herself, Natasha decided to organise a monthly Dementia Cafe for the local community alongside Mira Martin, the Staplehurst Community Warden. The first of many sessions took place on Wednesday 7th August at the McCabe Centre.
There was a great turn out on the day – over 10 people turned up for the first one and took part in reading current affairs in newspaper articles, followed by some brain stimulating games and lots of chit chat.
"It's a real chance for us to help our local community. We are so passionate about people's' wellbeing, and Dementia Awareness in particular is something I feel so strongly about. I was in touch with Community Warden in Staplehurst and she suggested the idea of a Support Group in the form of a Cafe and asked whether we could assist with running it and of course I was excited to be on board. The turnout was fantastic – it was lovely to host and everyone enjoyed the morning." Natasha says.
The Cafe was held from 10:00am to 12:30pm and refreshments were provided by Mira. The Dementia Cafe is held on the first Wednesday of every month at the McCabe Centre in Staplehurst, and there are plans to launch many more in other areas we deliver our care and support services.
It is a safe and friendly environment and anyone is welcome so if you or someone you know of could benefit from spending the morning with us at the Staplehurst Dementia Cafe, please feel free to just pop along on the day. Equally if you have any questions, please reach out to Natasha on 07807 015 998 or Mira on 07969 584 179, or alternatively call the Caremark Maidstone office on 01622 298345.