Caremark launches a Monthly Dementia Cafe in Staplehurst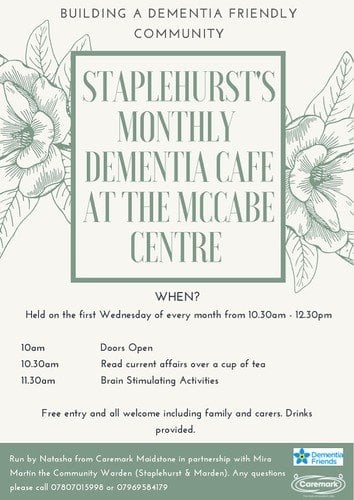 Caremark are holding a free Dementia Cafe in Staplehurst which will be held the first Wednesday of every month at the Mccabe Centre from 10am – 12.30pm. It is free entry and refreshments and biscuits are provided.
It is an opportunity for anyone living with Dementia to interact with others. They can take part in brain stimulating activities such as board games, number games, word searches, crosswords and discussions around current affairs in a relaxed and friendly environment over a cup of tea or coffee.
Everyone is welcome – friends, family, carers and those living with Dementia. It is a support group set up by the Director Natasha, who is a Dementia Champion in partnership with the Community Warden Mira who both have the vision to make their communities Dementia Friendly and offer a support group where anyone can drop into once a month. It is a place to socialise, learn more about Dementia and local services and the support that is available.