Caremark celebrates success at the Kent Care Awards 2021
Caremark Dartford & Gravesham were finalists at the Kent Care Awards 2021 in a number of categories and winners of the Community Registered Care Manager of the Year award. Having established the business in Dartford and Gravesend in March 2018, we're so pleased to have come so far, receiving the ultimate recognition at the Kent Care Awards. Congratulations to the team for all your hard work!
Caremark Dartford and Gravesham are delighted to share that we recently attended and won an award at the Kent Care Awards 2021. This is an annual event to celebrate the success of care businesses in the Kent region and show appreciation for the work they do. This year's event was held at the Great Danes Hotel in Maidstone on 17th September.
Since establishing the business in March 2018, this was the first time we nominated any of our team and were honoured to attend such a prestigious event.
We are extremely proud of our team for being shortlisted as finalists in 4 categories and of our Registered Care Manager, Kerry Lavallin, who went on to win the Community Care Registered Manager of the Year award. This is a huge achievement for Kerry and our team and it is exciting to see how far we have come!
"Kerry has been instrumental in evolving the business in the Dartford and Gravesend area and it was evident from the moment we met that she had a clear understanding of what exceptional customer service looks like and knew how to lead a team. Since she joined the team, no task was too much and no concerns by customers were left unattended. Kerry's commitment and drive is unparalleled, and we are truly grateful to have her as part of the team." – Raspinder Singh, MD
We would also like to highlight and show appreciation for our other finalists:
Community Homecare Champion- Pauline Gibson, Care and Social Worker; FINALIST
"Pauline's caring nature and willingness to go above and beyond has left her customer's extremely happy with the level of care they receive. Having new customers directly requesting Pauline to support them at home is a testament to the quality of care she provides in the community."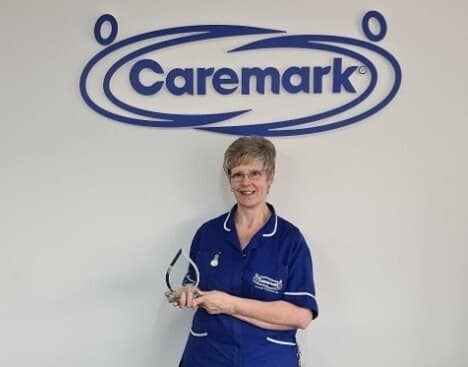 Care Team- Care team supporting an elderly customer (Elaine, Caitlyn, Michelle, Andrew, Rahul, Rapture and Joko); FINALIST
"The care team supporting K really became part of his family and this was mentioned at his funeral during several of the speeches. His family could not be more thankful and gifted all the carers with flowers and cards of appreciation."
Ancillary- Back Office- Kuljit Nagra, Care Coordinator; FINALIST
"Kuljit has excelled in her role as a Care Coordinator, listening to care staff, taking on board their needs and sympathising with their family commitments and life outside of work. She has always gone above and beyond for our customers, ensuring no calls are missed and always making sure we support customers, especially in emergency situations where cover is required last minute."