Caremark Celebrates Christmas 2021
After another challenging year due to COVID 19, Caremark Dartford & Gravesham tries to make Christmas even more special for our customers and carers. It's been a busy month as we celebrate Elf Day, Christmas Jumper Day, make Christmas cards and also distribute our very own Caremark Hampers. Please read the full article to find out more about what we've been up to.
As we come towards the end of another challenging year and towards Christmas, we wanted to do something special for our customers and carers. It's been a difficult year for our vulnerable customers who have been stuck indoors (isolating) and often our carers are the only people they get to see. We can only imagine how tough this must have been so we wanted to make an extra effort to do something nice for them.
Leading up to Christmas we have been celebrating Elf Day and Christmas Jumper Day, for Alzheimer's Society and Save the Children respectively. Many of our carers dressed up in elf costumes and in their Christmas jumpers, as well as some of our customers, getting into the Christmas spirit. As well as raising a little money for charity, we wanted to brighten peoples' days and start celebrating the festive season.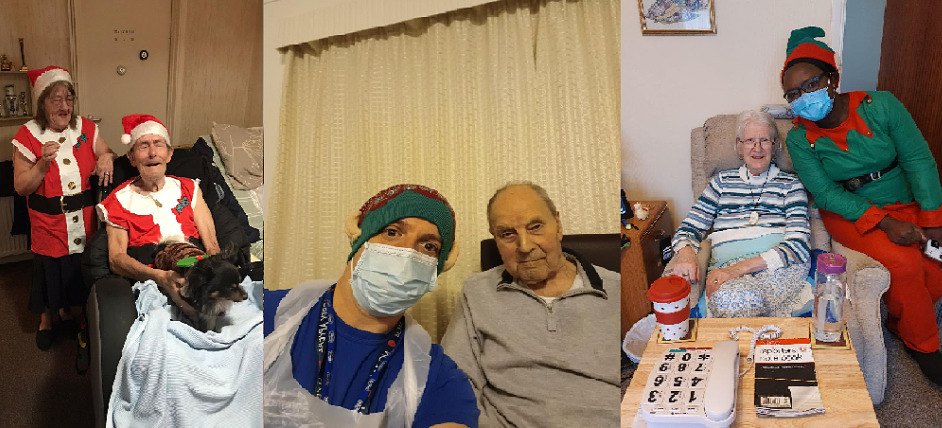 On Christmas jumper day, we also invited the children of our management team and carers into the office so they could make Christmas cards for our customers. We wanted to make something more personal than just buying cards and thought it would be nice to get our staff and their children involved too. The office was a sticky glittery mess but it was absolutely worth the effort and we ended up with enough cards for each of our customers.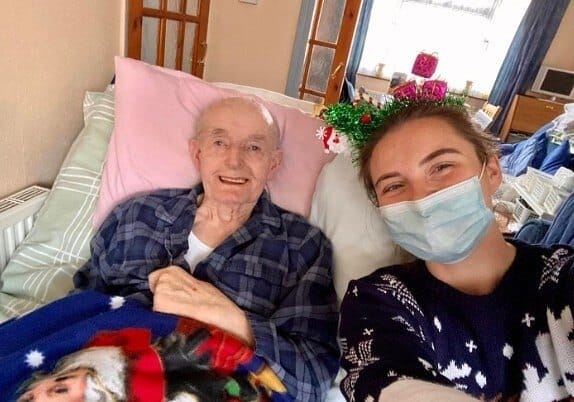 As a gift for this year, we decided to make up special hampers for our customers and carers, filling up our very own Caremark-branded cotton re-usable bags. We packed these full of goodies from Marks & Spencers, including festive treats like mince pies, Christmas puds, chocolates and other savoury items.
Our customers were overjoyed to receive the gift bags and cards that had been made by the children and we received wonderful feedback from our customers and their family members who were delighted to have received the gifts. The reaction from our customers was simply heart warming with one of our customer's in tears saying no one has ever done anything so nice for her before. Her son was also over the moon to see his mother so happy and we received such a lovely call from him saying how pleased they were.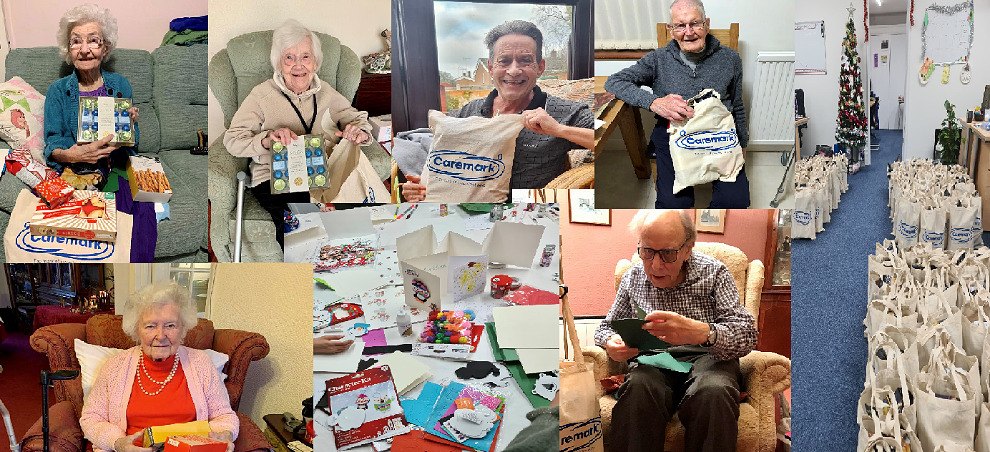 We ended up with a few left over bags and so instead of letting these go to waste, we have dropped some off at NAG Youth and Community Centre, New Ash Green, where they are hosting a Community Christmas for those who don't have any friends and family around. We have also given some Caremark hampers to one of the District Nurses who will distribute these to some of her patients in Dartford & Gravesham (not with Caremark) who won't have family with them on Christmas. Hopefully these Caremark Christmas hampers will bring joy to more people than we had anticipated!