Caremark Catch-Ups: Denise, Care Assistant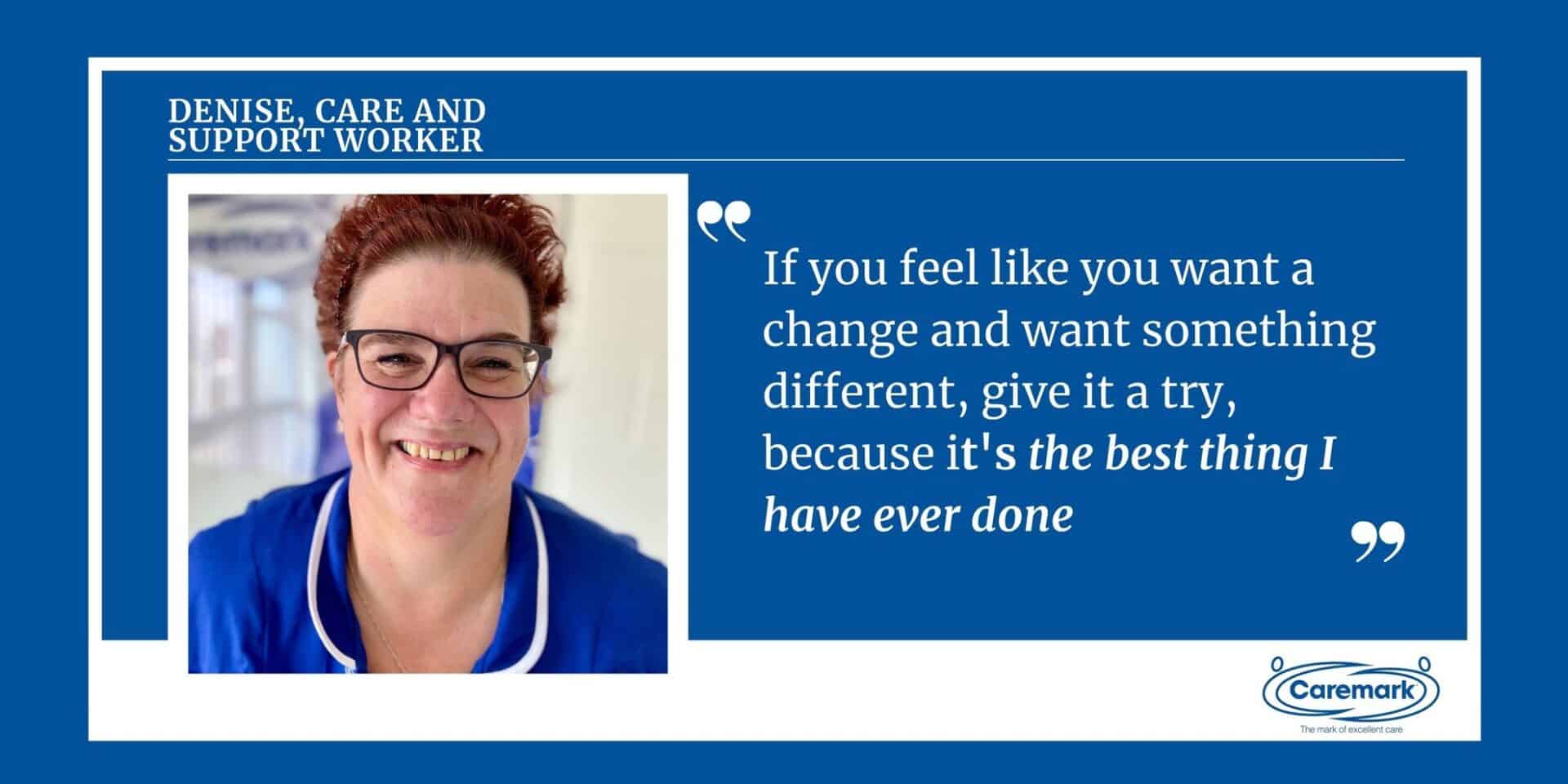 Today we are doing something a little bit different, and settling in for a deeper chat with Denise, to discuss her transition into the health and social care sector.
Denise joined us after 22 years of service in the retail industry and found the transition daunting at first. But, after less than a year, Denise has flourished, and is now accompanying new care assistants out on shadow shifts and starting her NVQ level three. We sat down with Denise to discuss how she found joining the team at Caremark, and how she feels about her new career.
Caremark: Hi Denise! So, tell us about what first prompted you to make the change into the Health and Social Care Sector?
Denise: I worked in retail for 22 years, and so I was looking for a new start. Someone told me about care, and I was a bit sceptical at first, as I had worked at my previous job for a long time. It was a scary thing, and I wasn't sure whether I wanted to make that leap.
C: Would you say it was a big decision to make?
D: Oh, definitely, yes. I had worked in retail for 22 years and to go into care, which I had never done before, was a really big step for me.
C: What were you most nervous about?
D: The interview and recruitment process; I hadn't done it for a long time, and it was scary to do it all again.
C: How did the recruitment and training process compare to what you thought it would be?
D: The training went through everything you needed to know, and it wasn't as scary as I thought it would be.
C: How did you feel when you'd finished your training and shadowing shifts, and first went out into the field on your own?
D: Nervous! Totally nervous, as I wasn't sure of myself or my timings.
C: How long did it take to build your confidence?
D: A couple of months. As time has gone on, I feel more confident in myself and what I'm doing. If you get out there and find something you're unsure about, the training kicks in, and you think 'oh right this is what I am doing', or 'this is how I do it'.
C: What would you say to people thinking about making the change?
D: Do it, definitely. If you feel like you want a change and want something different, give it a try, because it's the best thing I have ever done.
C: What do you get from the job?
D: Job satisfaction, and the fact you're appreciated when you do something. When a customer says 'oh thank you for doing that', or 'thanks for everything you do', it means a lot. You get to know that person and their quirks, and when they say thank you, it means so much more because someone is saying thank you for doing your job. Although, to me it doesn't feel like a job, because it feels like I'm just helping out and doing something I like.
C: Do you think it's a sociable job?
D: You're definitely not on your own. You see other care assistants, fleetingly or not, around on shifts. You get to catch up with them and feel like you're part of a bigger team. When you come in the office, there are always other people there too, and you get to say hi.
C: Have you found there are opportunities for career development?
D: Definitely: I never thought that I would be the one taking people out on shadow shifts, and teaching them. I've been here nearly a year, and now I am starting my NVQ level 3, which is a great step up.
Thank you so much to Denise for taking the time to sit down with us and talk. If you are looking to make the switch to a new career, give us a ring on 01371 872178.