Another Training Session Completed!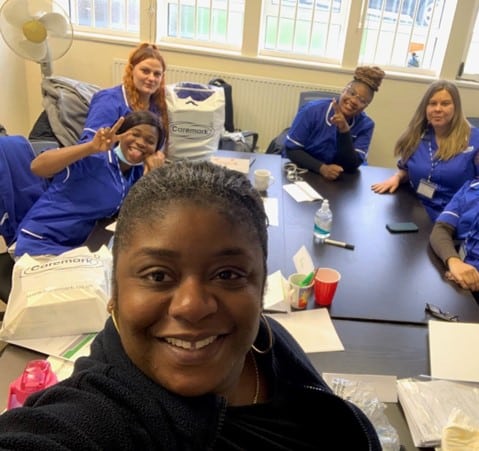 After completing a 4-day intensive training session, these workers are now ready to get first-hand experience and join one of our teams within Bromley. The transition from theory to practical is always exciting for carers and is signified by receiving their first uniform. It is with great pride seeing off another set of Care and Support Workers.
Their experience hasn't necessarily been in care before. Their backgrounds vary, from being students to bar staff. Some may have been carers for their loved ones and now understand how important this role is for these vulnerable individuals. Experience is always appreciated, however, it can't teach people what is fundamental to be able to work in Health and Social Care. What is needed is being passionate about people.
If you have that passion, then we can teach you the rest. To be positive for the vulnerable adults we work with, treating them with kindness and respect are the most important aspects of going above and beyond for our service users.
What do you learn from Caremark?
As a Care and Support worker, understanding your customers, what they are suffering from and how to pick up on new behaviour are all required to be a competent carer. During our 4-day training course, the following are key subjects you would learn about:
Mental Capacity
Dementia
Infection Prevention and Control
Manual Handling
Medication
Safeguarding Adults
Record Keeping
The training course teaches you an in-depth skillset in Social Care. Once you meet your customers, you would tailor your knowledge to their Care Plan and work with them to ensure a positive wellbeing.
Training Reviews
"Kafilat was very welcoming and made us feel very comfortable. She explained everything clearly and I felt I could get answers to my questions."
"Kafilat was a very good teacher. I like how she takes the time to discuss everything to you to get a clear enough understanding about the concepts of care"
"The training was a lot to take in, but Kafilat was a great trainer in making me feel comfortable about the things I didn't know about in care."
"Kafilat was an amazing trainer, perfect blend of light-hearted discussion and focussed work in becoming competent in helping vulnerable people. I am excited to get on the field!"
Thank you!
Thank you to Kafilat, for her continued hard working approach to ensure our new recruits are completely ready before being paired with a buddy on the field.
A big thank you to the new Care and Support Workers, who want to give back to their community and be apart of one of the most rewarding jobs. We wish you every success on the field!
If you would like to join our expanding team, please apply to one of our available job roles via this link: https://www.caremark.co.uk/locations/bromley/jobs/