What is Live in Care?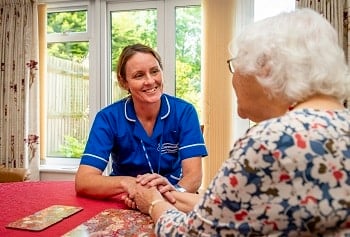 A live in carer lives with you in your own home and allows you, or your loved one, to stay at home in familiar and relaxed surroundings with a bespoke level of one to one support.
At Caremark (Leicester, Oadby & Wigston) we feel our Live in Care is the alternative to moving into a care home.
Live in Care is becoming an increasingly popular form of elderly care at home. Caremark (Leicester, Oadby & Wigston) live in care is the perfect solution when a loved one wants to stay in his or her own home but needs 24/7 care. We can also personalise the care to support couples.
Surrounded by familiar possessions in your own home, you will be looked after by a dedicated live-in carer who can help with every aspect of daily life, including personal care.
Caremark (Leicester, Oadby & Wigston) live in carers are experienced in providing Alzheimer's care and dementia care, so you can remain in your own home for as long as you wish. The live in carer provides companionship, assistance and support throughout the day and night for complete peace of mind.
Many people assume that a care home is where they will ultimately end up, but in fact, there are a wide variety of alternatives when it comes to caring for adults & elderly and Caremark (Leicester, Oadby & Wigston) can provide the perfect alternative with our bespoke live in care package. When a loved one reaches the point in their lives that they need 24 hour care to ensure their safety and well-being, the options are split between live in care, and the alternatives which require the care recipient to move out of their home and familiar surroundings.
Call us today and speak to one of our friendly team on 0116 268 1010 to discuss how our live in care can support your needs and requirements.
We also welcome enquires from candidates looking for jobs in home care and jobs in live in care.