We would like to welcome our newest Team Member Saskia Rose Tierney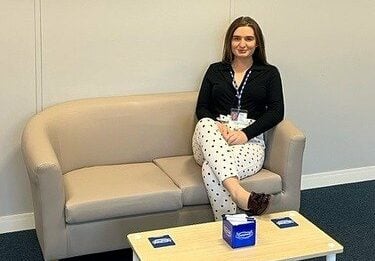 We know you will be a great asset to the team!!! 
Here is a little bit about her – in her own words!
I have ample experience within the healthcare industry. My journey started in 2018, where I was within the Bank Staff team, in the NHS. I would be in charge of assisting the trust to fulfil their temporary staffing needs, ensuring all rightly qualified staff were placed as per staffing grades. From here, I was quickly promoted within the department to lead co-ordinator, focusing on my small team to ensure the smooth running of temporary staffing levels were adhered to within the trust.
I moved on within the trust into the theatre department. My main job role was to insert, direct and manage all surgeon rotas and ensure their team was appropriately qualified. I would also have a more hands on approach, ensuring all patients were comfortable, content, and ready for their operation(s).
This took me to wanting to work within the community, where I joined Caremark as a Community Care Assistant at another branch. I thoroughly enjoy caring for all my customers, I believe having a professional and understanding approach, gives my customers the comfort and reassurance they may need, while adhering to each and everyone's care plan.
This brings me to now, as Caremark Ashford and Shepway's Field Care Supervisor, where I will ensure all our carers and customers voices will be heard, while swiftly ensuring a safe and professional service is delivered.
In my spare time, I enjoy spending time with my partner, loved ones and 2 dogs, Archie, and Willow.
#FieldCareSupervisor #Caremark #domicillarycare #MakingOurMark