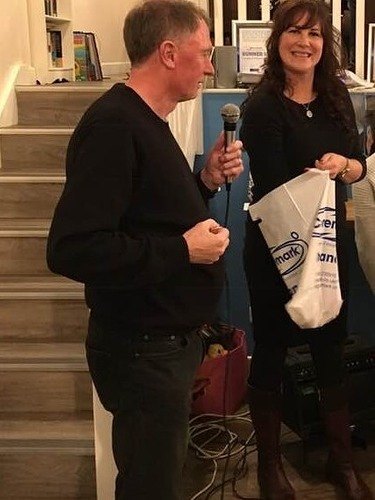 11 Dec 2017
Caremark Thanet Raise Money for East Kent Hospital's Dementia Appeal
Our Charity Quiz Night
On Friday 8 December 2017 we (Caremark Thanet) held a quiz night in aid of East Kent Hospital's Dementia Appeal. Even the atrocious Margate weather could not keep our valiant quizzers away from what proved to be a spectacularly successful evening. On the night £366.60 was raised, which, in the new year, we will make up to £800.
Everyone at Caremark Thanet sends a very big thank you to each of you who came along, bought raffle tickets and donated raffle prizes. Your wonderful generosity will go directly to help people in Thanet living with dementia. A special thank you must go to Bernie, the owner of
Bernie's Chocolate Bar
, for allowing us to use her superb venue located on Margate sea front, and for organizing the questions and compering the quiz.
Caremark Thanet and Bernie's Chocolate Bar
The quiz night is the third event Caremark Thanet has held with
Bernie's Chocolate Bar.
In June we held two events: a
Great Get Together,
in celebration of the values of
Jo Cox
, and a
Charity Comedy Night
, once more in aid of
East Kent Hospital's Dementia Appeal
. The comedy night
raised £1200,
which means that this year we will have raised £2000 for the Appeal.
Presenting the Cheque
We will arrange to present a cheque for £800 to the East Kent Hospital's Dementia Appeal sometime early in the new year.
Garry Costain is the Managing Director of Caremark Thanet, a domiciliary care provider with offices in Margate, Kent. Caremark Thanet provides home care services throughout the Isle of Thanet. Garry can be contacted on
01843 235910
or email garry.costain@caremark.co.uk. You can also visit Caremark Thanet's website at
www.caremark.co.uk/thanet
.