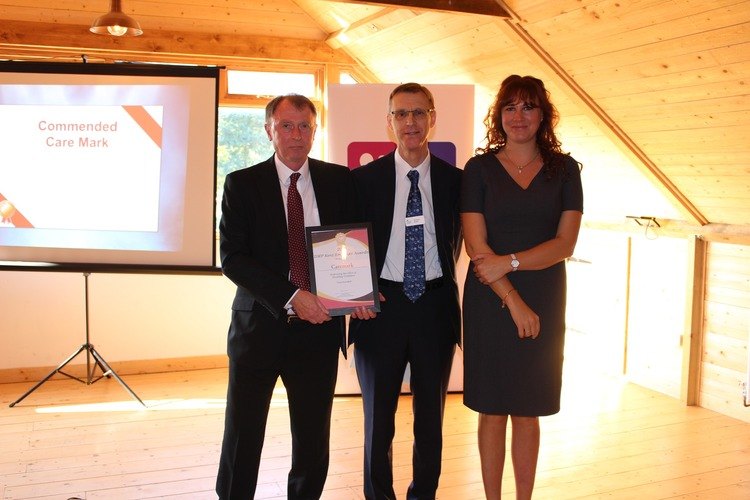 19 Oct 2018
Caremark Thanet Commended for its Work as a Disability Confident Employer
At the recent DWP Kent Employer Awards ceremony we were very proud to be the recipients of an award for our work as a disability confident employer.
About Us
We are a domiciliary care provider serving the residents of Thanet. We are a community engaged organisation. This means that we see an indivisible link existing amongst everyone at Caremark Thanet, our customers and our community. Our approach to business is very much based upon making community links.
Over the last five years we have built up innumerable links with individuals and organisations in the Thanet community. We believe that as well as our obligations to our customers to deliver outstanding care, we have a duty to our community to contribute to the store of community well-being. One way of making a significant contribution is through our extensive community engagement programme.
Caremark Thanet working with The the Department of Work and Pensions
One strand of our community engagement programme has been the work we have done with the local Job Centre Plus (JCP) offices in Margate and Ramsgate. Over the last two years in particular, a number of our care and support workers have come to us through these offices.
We visit the JCP offices every 3-4 weeks and conduct interviews with candidates. We also attend jobs fairs arranged through the DWP, and we have worked closely with the local offices in their efforts to help people with disabilities find employment.
We are very proud to have been recognised for the work that we have done and will continue to do with our local JCP offices.
Garry Costain is the Managing Director of Caremark Thanet, a domiciliary care provider with offices in Margate, Kent. Caremark Thanet provides home care services throughout the Isle of Thanet. Garry can be contacted on 01843 235910 or email:
garry.costain@caremark.co.uk
. You can also visit Caremark Thanet's website at:
www.caremark.co.uk/thanet
.