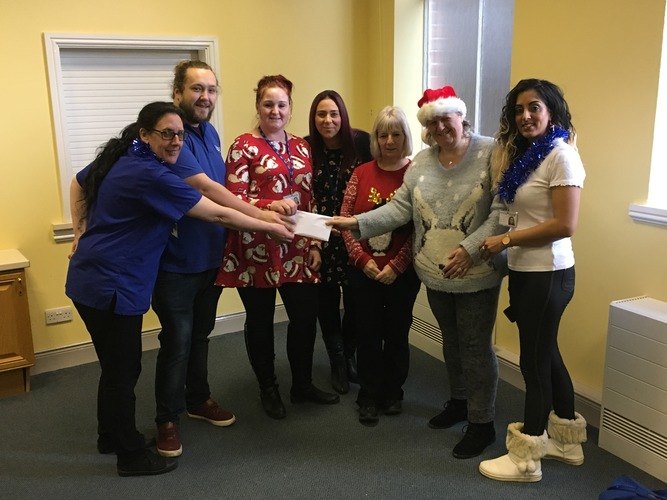 06 Mar 2019
Supporting local good causes
A carers' group has been set up to raise money for charities and good causes in the areas where Caremark (Redcar and Cleveland) provides care.
A group of carers have set their sights on their next fundraising challenge – helping a local boy with a disability - after handing over £1,000 to a local charity which provides care and support to people living in Guisborough and the surrounding areas.
Staff working for Caremark Redcar and Cleveland chose The Guisborough Bridge Association to be the first beneficiary of a new fundraising initiative.
It forms part of a new internal charity and events group which was set up at the end of 2018 to encourage staff to come together to create more social activities and to raise money for local good causes.
The group held a raffle at their end of year party, which raised £265, with Caremark Redcar and Cleveland Managing Director Charles Folkes doubling that amount.
Just over 100 staff then also agreed to donate £5 from their wages in return for wearing Christmas jumpers throughout December.
A total of £1,106 was raised and this was recently presented to the Association.
Carer Aaron Taylor, who is part of the group, said: "When we set up the group we were clear in wanting to support local charities or good causes, so the money would stay in the area.
"The Guisborough Bridge Association said a few hundred pounds would make a big difference to them, so being able to hand over £1,000 was phenomenal and exceeded all their expectations."
The group is now planning its next events, which will help to raise money for an appeal set up to help local boy Alfie Ward. Alfie, whose mum Leanne is a carer at Caremark Redcar and Cleveland, was born with a cleft to his scull which left him blind and was recently diagnosed with epilepsy which has led to day and night seizures.
His family and friends are trying to raise money to buy a monitor which will alert Leanne when Alfie is having a seizure.
As well as the charity and events group, another staff group has been formed, with this one looking at carer retention and support.
Michelle Jackson, Care Manager at Caremark Redcar and Cleveland, said: "We have expanded rapidly over the last few years as demand for our home care services have increased, and this means we now employ 230 people.
"The aim of setting up the two groups is to give our carers an even greater voice and ensure they feel part of the team and the Caremark family.
"The care sector has always struggled when it comes to recruiting and retaining staff, but by having the groups and through the other ways we engage and reward our staff, we are really bucking the trend."