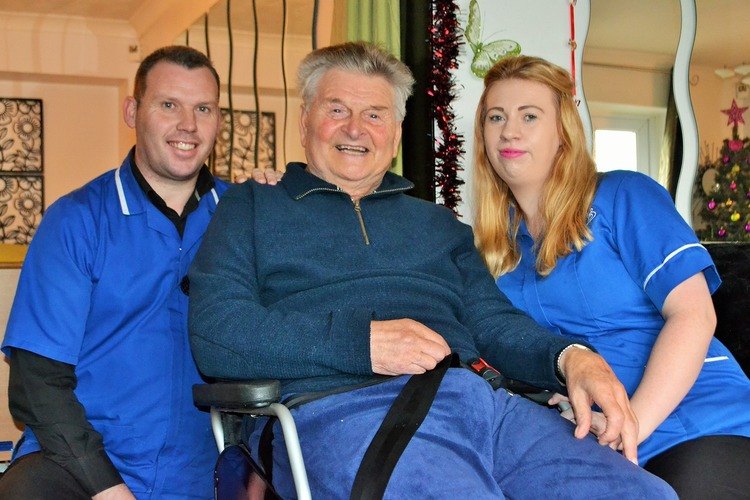 06 Jan 2015
Redcar & Cleveland Carers of the Year awards
People who receive care from Caremark (Redcar & Cleveland) have been instrumental in deciding who should win the company's annual care awards
A lady who has quite a complicated and rare illness and the family of man recovering from a major stroke were among those who wrote letters of nomination for the people who provide their care.
Management at Caremark (Redcar & Cleveland) then used this feedback to choose the winners of its annual care awards.
The award for employee of the year went to 41-year-old Dean Buttle, who lives in Redcar. Dean was nominated by the family of Ted Badger, who has been receiving care from Caremark for the last two years, following a stroke.
Dean, along with fellow carer, 23-year-old Beth Cappleman (who won the company's Redcar carer of the year award) visits Ted and his wife Betty four times a day, doing everything from helping to get Ted up, washed and dressed on a morning, through to helping him into bed at night.
They go the extra mile and support him with daily exercises which have helped him to regain strength in his legs, meaning he has taken a few steps when physiotherapists did not think it possible.
Betty said: "After Ted had a stroke I found it very hard to care for him, but Dean and Beth have been fantastic and I don't know what I would do without them."
Betty's daughter Donna said: "Dean and Beth really do put a smile on my mam's face as she knows she can trust them to do their jobs professionally and also that they have a really good rapport with my dad.
"My dad loves them both too, they make him laugh and they are genuinely lovely people to be around. When Dean and Beth are with my mam and dad it puts my mind at ease because I know that they are in safe hands and would go that extra mile for them."
Dean, who received £100, a certificate and a bottle of champagne for winning the award, said: "It's nice to be recognised for the work you do, but I don't do it for reward, caring for people like Ted is just something I love doing."
Another carer who received an award (for the Middlesbrough, Guisborough and North Yorkshire area) was 40-year-old Michelle Townsend, from Guisborough.
Mother-of-four Michelle was nominated by Carol Painter, of Guisborough. Carol has a complicated and rare illness and is also recovering from a stroke, so she needs daily, one-to-one support.
Carol says: "Michelle is patient, considerate and kind and she has brought the outside world into my life. She helps me to deal with some of the challenging aspects of daily life and when I am with her I feel I could climb a mountain."
Michelle, who received £50, a certificate and flowers from Caremark, says: "I have always enjoyed being a carer and it was very nice of Carol to say so many nice things about me in her letter."
Other winners in the Caremark awards were:
Extra care carer of the year - Celia Dawson
East Cleveland carer of the year - Andrea Starsmore
Special achievement award - Lynne Morris
Outstanding achievement award - Janet Morgan
Caremark (Redcar and Cleveland) Managing Director Charles Folkes said: "It was difficult deciding who should win awards this year because all of our staff are so deserving.
"In the end we thought it was fitting that the people we provide care for should be instrumental in helping us to choose the winners, and we would like to thank them for the lovely nominations they submitted.
"The awards recognise those that go that extra mile in their roles and ensure that the care we deliver is outstanding."