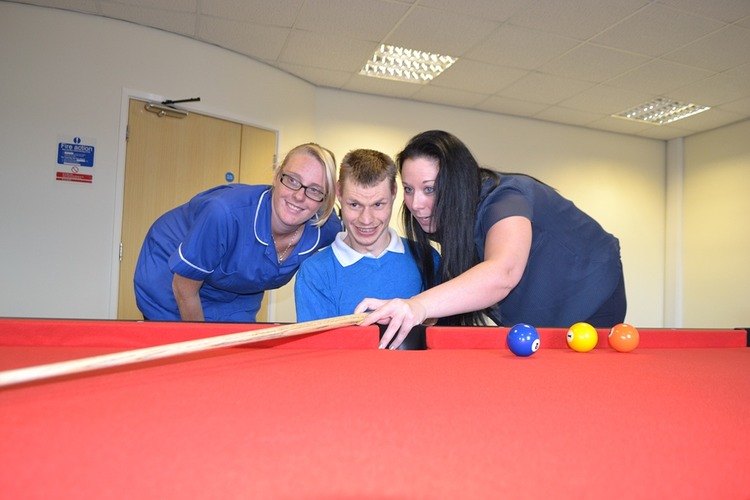 29 Aug 2013
New drop-in service launched
Caremark (Redcar and Cleveland) has opened a new drop-in service for adults with learning disabilities.
The service launched by Caremark (Redcar and Cleveland) aims to offer a variety of support including advice, practical support or information, development of simple life skills, developing or maintaining social networks, increasing independence and allowing people to access new interests or activities, and even to make new friends.
Based at the Kirkleatham Business Park in Redcar, the drop-in centre, which is open seven-days-a-week, includes a computer with free wi-fi access, a Nintendo Wii games console and a pool table that also converts into a table tennis and air hockey table.
There is comfortable seating and a creative area for crafts. There is also a lounge and dining area and service users will have access to the on-site gym at the Business Park.
The drop-in service, which has created five new jobs, is available to adults with learning disabilities who are currently supported by Guisborough-based Caremark (Redcar and Cleveland), but this could be extended in the future to others who would benefit from the service.
Caremark (Redcar and Cleveland) Managing Director Charles Folkes said: "Following the closure earlier this year of council-run day centres for people with learning disabilities, we felt there was a need for a new type of service in the area and we are already experiencing lots of demand for our service.
"With the introduction of personal budgets, people with learning disabilities are taking greater control over their support packages and it is important to offer them services which will help to increase their independence in the community.
"Our drop-in centre offers people the opportunity to develop simple life skills, enjoy a range of fun and stimulating leisure activities, introduce them to new social networks and provide practical advice and support in a safe and relaxed environment.
"We have had tremendous support in setting up the service and we would particularly like to thank the Snooker & Pool Association who donated some fantastic cues for our service users through the Paul Hunter Foundation."
People with learning disabilities who would like to use the service can do so via their local authority following an assessment, by using a Direct Payment or Personal Budget or if they self-funded.
Caremark can also support people in finding a suitable dedicated personal assistant that can accompany them to the drop-in service and the wider community. For further information telephone 01287 634706.