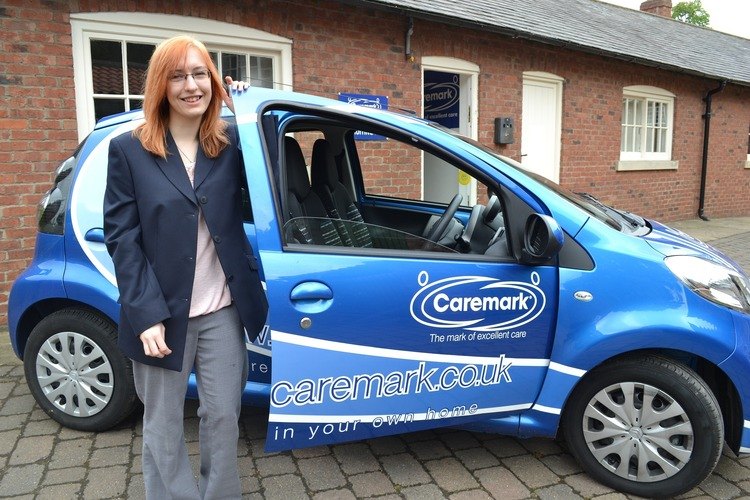 06 Jun 2013
Helen leaves it late to become Caremark apprentice
Helen Francis left it until the 11th hour to become the first apprentice to work for Caremark (Redcar and Cleveland).
The 21-year-old only discovered the post with Caremark (Redcar and Cleveland) was available when her college lecturer emailed her at 11.30pm to say her application had to be in by midnight.
Helen very quickly submitted the application and following a successful interview she was given the post of Office Administrator.
Caremark's Managing Director Charles Folkes very quickly knew he had made the right decision when quickly after starting work, Helen asked if she could also combine her office role with caring for people in the community.
So, as well as answering telephones, sorting mail and carrying out other day-to-day office administration tasks, Helen now also has her own 'patch' caring for people in the Skelton, Boosbesk and Margrove Park areas.
She also continues to attend Prior Pursglove College where is studying for a Level 2 qualification in Business Administration.
Helen says: "I don't know what made me check my email so late at night, so I am glad I did because otherwise I would have missed out on the job.
"Working in the office and caring for people as well is a challenge but I am really enjoying it and the experience I am getting is invaluable.
"I am getting married next year so it is nice to be starting a new career as well. It is a very exciting time for me."
Charles Folkes, Managing Director of Caremark (Redcar and Cleveland), said: "Due to the growth of our business over the last 18 months, the time was right to take on an apprentice and we couldn't be happier with Helen.
"Not many people would actively request more work so soon after starting a new job, so it says a lot about Helen's qualities. She is exactly the type of person we want working for Caremark."