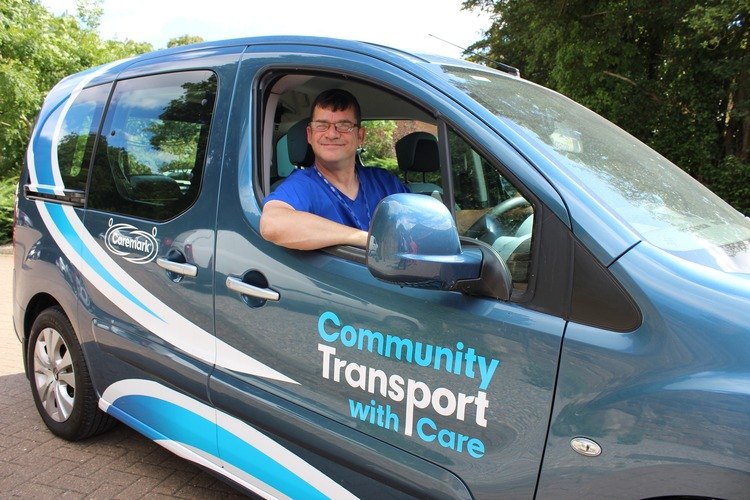 06 Sep 2017
Community Transport with Care
A unique driving service which provides companionship and care is being launched to help socially-excluded and vulnerable people in Redcar and Cleveland.
Community Transport with Care is aimed at people, young and older, who struggle to leave their homes for a variety of reasons.
This could be because they are frail and have no support network; they live in isolated parts of the borough and have no access to transport, or have a disability which makes getting in and out of a vehicle difficult.
The service – the first of its kind in the area - is being run by Caremark (Redcar and Cleveland). It will be officially launched on 1st October, but bookings are being taken now.
Managing Director Charles Folkes explains: "For most people, being able to get in a car to visit friends, go shopping or drive to school is something that is taken for granted. Unfortunately, this is not the case for everyone.
"But by using our service, we will take care of everything, from meeting people in their homes, helping them in and out of the vehicle, which has full wheelchair/mobility scooter access, and taking them to wherever they wish to go.
"It's important to stress that this is much more than just a transport service. Our staff will also be to provide companionship which, if you are living alone with no family or friends to support you, can make such an important difference.
"People who use the Community Transport with Care service will be picked up by a specially-adapted Citroen Berlingo multi-space vehicle. The seats in the back fold down to enable wheelchair access, via a fold down ramp, and an electric winch that is installed in the vehicle.
The drivers who provide the service all hold nationally recognised care qualifications, in addition to having a current DBS (Disclosure and Barring Service) check and being approved as a licenced private hire driver by Redcar and Cleveland Borough Council.
The first qualified driver is Richard Taylor, aged 49, from Guisborough.
He said: "Social exclusion can have a devastating impact on peoples' health and well being so I am really looking forward to helping people, whether that's taking them for medical appointments or for a trip to the beach."
Mr Folkes added: "What makes our service unique is that the people undertaking the driving are also trained carers, so they will know exactly what do to regardless of each care need they face.
"Everything we do will be centred around the individual; we understand everyone is difficult."
The Community Transport with Care service is open to anyone living in Redcar and Cleveland. For more information telephone 01287 634706 or
email us.