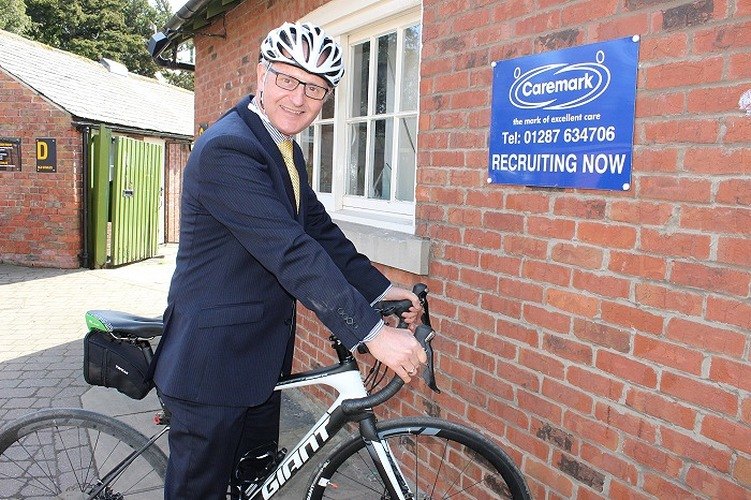 04 May 2015
Charles gears up for charity bike ride
Caremark (Redcar and Cleveland) Managing Director Charles Folkes is preparing to cycle the length of Great Britain to raise £100,000 for the fight against dementia.
Charles will ride 1,000 miles from John O'Groats to Land's End in September this year.
He is joining seven of his colleagues from the national Caremark network to tackle the grueling ride, which will see the team covering 100 miles a day over ten days.They are aiming to raise £100,000 for the Alzheimers' Society, a charity which provides support to many Caremark customers across the UK.
They have already raised £10,000 including a £5000 pledge from the Professional Footballers' Association (PFA).
Having recently celebrated his 60th birthday, Charles will be the oldest of the riders taking part, but he is actually using this as his motivation.
He explained: "There's no doubt this is a big challenge and whilst I have been riding for a few years now, I haven't done anything close to this distance before.
"But after turning 60 I wanted to do something to mark this milestone and the prospect of raising so much money for a charity close to my heart seemed a perfect fit.
"We provide care for people with dementia so I know only too well how devastating this can be on individuals and their families, so if we can contribute a significant amount to the fight against dementia that would be fantastic."
Charles has started training for the event and is currently covering up to 20 miles each ride. He aims to build this up to 150 miles a week as the ride approached..
He added: "Barring injury or an unforeseen event I know I will complete the ride and my focus now is on my training and trying to raise as much money as I can."
Charles and his fellow riders are now organising a number of local, regional and national fundraising events to help them meet their £100,000 target.
They have set up a Just Giving page which can be viewed at
www.justgiving.com/caremarkjogle
. People can also text CMJL70 then the donation amount to 70070. Charles can also be contacted on 01287 634706.