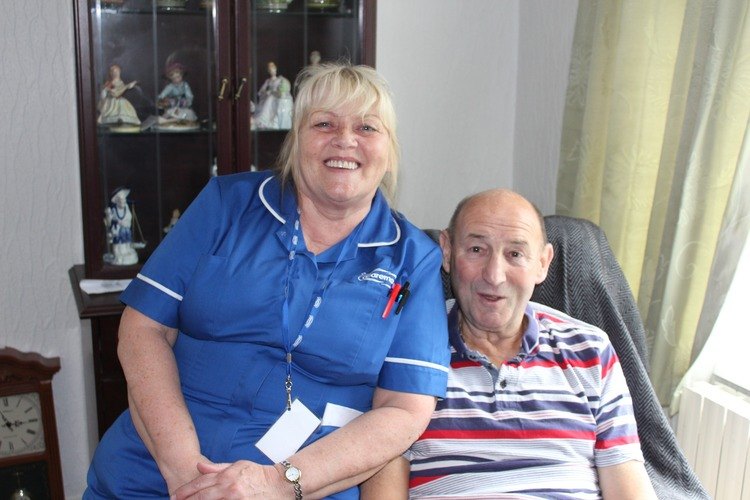 17 Jun 2015
Caring Elaine is a real life-saver
A Care Worker working for Caremark (Redcar and Cleveland) saved a client's life after he suffered a heart attack
Keith Binks says he wouldn't be alive today if it wasn't for the actions of Caremark (Redcar & Cleveland) team member Elaine McQuillan. Elaine came to his aid after he was found slumped unconscious in a chair in the communal area of the Jubilee Court extra care housing scheme in Eston.
Elaine, who works as a Team Leader for Caremark (Redcar and Cleveland), administered CPR to 65-year-old Mr Binks for ten minutes, managing to restart his heart by the time paramedics arrived on the scene. Mr Binks didn't realise what had happened until he work up in hospital and was told about Elaine's life-saving actions.
He said: "I remember very little other than it was the day of my birthday and that I was sitting in a chair in the lounge.
"The next thing I knew I was waking up in hospital and was told that Elaine had brought me back to life."
"I am so grateful to her, although I was disappointed when I found out that she hadn't given me the kiss of life as well," joked Mr Binks.
Elaine, 56, who lives in Redcar and is married with five children and ten grand-children, said: "I remember someone shouting that Keith was unconscious in his chair and I ran over and could feel no pulse.
"Along with colleagues we managed to get him on the floor and I started to do chest compressions.
"It seemed like I was doing it forever, but it was actually around ten minutes and Keith started to groan so I kept going until the paramedics arrived.
"At the time I didn't fully understand the gravity of the situation but my training and adrenaline kicked in and I am so glad that I was able to help Keith."
In hospital Keith discovered he had a heart murmur and this is what had caused his heart to stop. He now wears a pacemaker and is recovering well back at Jubilee Court.
He added: "I am lucky that Elaine acted so quickly but also lucky that I went down for a cup of tea that morning. If I had been in my room I probably wouldn't be around to tell the story today."
Charles Folkes, Managing Director of Caremark (Redcar and Cleveland), said: "What Elaine did was nothing short of sensational and we are all very proud of her. Not many people can say they have saved someone's life.
"Staff have to undergo continuous training when they are with us and this includes first aid, so this demonstrates the importance of ongoing training in the care sector."