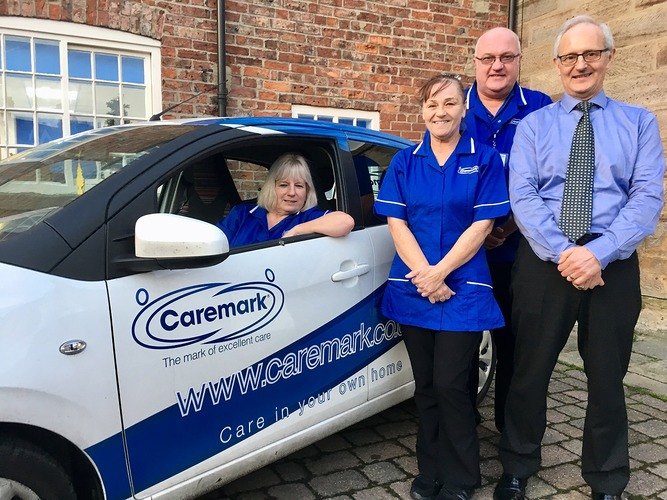 21 Feb 2019
Carers of the year
Testimonials provided by its own customers were used to present awards to carers working Caremark Redcar and Cleveland.
The three main winners of the Caremark (Redcar and Cleveland) awards were a man who spent over 20 years working in a mine before becoming a carer, a woman who gave up her job as a dinner lady to care for others and another woman who swapped cleaning for a new career in care.

Awards, which were presented at a special ceremony in Redcar, were given for carer of the year in the three main areas covered by the company – East Cleveland, Guisborough/Middlesbrough and Redcar.

Runners-up awards, special awards and outstanding care worker awards were also presented to staff who had received compliments from customers or their families.
The East Cleveland Care of the Year Award went to Kevin Norris.

Kevin, aged 52, worked at the Cleveland Potash mine for 21 years before becoming a carer in May this year. Despite only being in the job for six months, he was the overwhelming choice based on the number of nominations he received from the people he cares for.

One customer said: "Kevin is genuinely interested in how I am and always ask precisely what is required. He does little extras and is friendly, attentive, helpful and overall exceptional."

Another said: "Kevin always listens to me and makes me feel better about myself; he is very caring and has lots of patience."

Kevin said: "Having only been in the job a short while I was shocked, but delighted to win the award. It's the best job I have ever had and I only wish I had done it earlier."

The Guisborough/Middlesbrough Carer of the Year Award went to Pat Walton, who worked as a dinner lady before becoming a carer.

One of the customers who nominated her said: "Pat has changed my life in so many little ways that it is too difficult to describe them all."

Another said: "Pat puts the person first and is very understanding, thoughtful and caring."
Pat, who lives in Guisborough, said: "I was overwhelmed when I found out I had won. Being a carer is so rewarding; putting a smile on people's faces when you help them means everything."

The Redcar Care of the Year went to Debbie Delaney, who was a cleaner before she decided to go into care.

One of the customers who nominated her said: "Debbie has made my life easier and we always have a laugh. I would describe her as a friend you need as well as an extra pair of hands to help."

Another said: "Debbie is extremely caring and goes above and beyond to make sure I am cared for and want for nothing. She has changed my life and makes me feel like I do actually belong."

Debbie, who lives in Redcar, said: "I got goose-bumps when my name was read out at the awards; it was lovely to hear such nice things said about me by the people I care for."

Caremark (Redcar and Cleveland) Managing Director Charles Folkes said: "It has always been our philosophy to recognise the amazing work our care team do in helping people to remain in their own homes, which helps with their dignity and independence.

"This year's awards were our biggest ever, with over 100 carers being nominated by those who matter the most – the people who receive care.

"However, every single member of staff contributes to the outstanding care we provide and I would like to thank them, our customers and their families for their support."