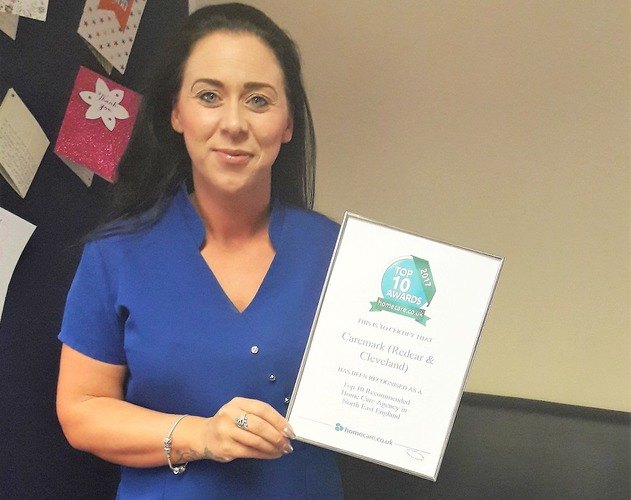 05 Oct 2017
A top 10 company
The reviews of clients and their families has led to Caremark (Redcar and Cleveland) being named in a list of the top 10 home care providers in the North East of England.
Caremark (Redcar and Cleveland) is the only company in the Tees Valley region to make the list, with the others coming from Tyneside, Wearside and Durham.
The top 10 list is compiled by homecare.co.uk, the leading home care reviews site.Each provider is given an overall rating – by clients and their families - as well as on their staff, care and support, management, whether they are treated with dignity and whether they are value for money.
Caremark received an overall rating of 4.8 out of 5 for the care and services it provides.
An example of a review left by a Caremark client on the website is as follows:
"I've been a client of Caremark for some time now and as an independent person with disabilities, I found it hard to ask for help."It wasn't easy having others come into my home to help take care of my personal needs. It was one of the hardest decisions I've ever made and I'm very happy I did.
"The carers treated me, and still treat me, with great care, respect and dignity. It's the carers that represent and breathe life into the company. The carers put me at ease right away. It's like having friends come over to lead a helping hand.
"I am very happy with Caremark. If there are any questions or concerns, the carers and office staff are happy to address any concerns and reply to any inquiries with great care. Thank you to all my carers and everyone in the office who help make my life so much better. God bless you."
Caremark (Redcar and Cleveland) Managing Director Charles Folkes said: "These awards are regarded at the most important in the industry because they are the only ones voted for by the people who actually receive care.
!We are proud and delighted to have achieved such a high review score and this is testament to the fantastic team we have here at Caremark.
"From the head office staff, through to the home care workers who visit peoples' homes each day, everyone plays their part in ensuring the care we provide is of the highest quality and centred around the individual."
Davina Ludlow, Director of homecare.co.uk, said: "Good quality home care enables people to stay in their homes and keep their independence, with their home care worker often becoming their friend as well as a lifeline to the outside world.
"Caremark (Redcar & Cleveland) has shown that it provides high-quality care and we'd like to congratulate it on being one of the top home care agencies in North East England."
To see the list of top home care providers in the North-East go to the homecare
website.
By clicking on Caremark's name, you will then be taken to the company's listing and be able to read other reviews left by clients and their families.