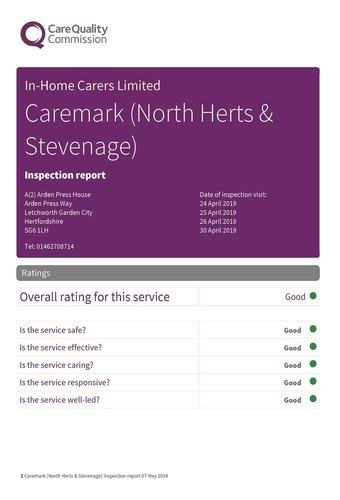 26 May 2019
Good rating from CQC for local in-home care provider
Ash Sajjad is celebrating after Caremark North Herts & Stevenage has been awarded a GOOD rating with the Care Quality Commission (CQC). The Managing Director is thrilled for his team's hard work to be recognised.
His team of office and care workers were credited for delivering an overall quality of care that was safe, effective, caring and responsive. The management, including Care Managers Claire Evans, was also commended for operating a well-led organisation. Comments from the report for Caremark North Herts & Stevenage include, "Staff had a good understanding of safeguarding and reporting concerns. Care plans contained information about how to support people's needs, these were reviewed annually or when people's needs changed. The registered manager and care staff were passionate about the care provided."
"We're over the moon and this feedback motivates us to do more and reach the ultimate goal: to help people, create jobs and make a difference to people's lives," says Ash. "I'm proud to employ such a wonderful team and offer them career opportunities in what can be a very rewarding, yet demanding, role. This result is a real testament to their dedication to providing a great quality of care to vulnerable people living in our area." This was the third CQC inspection carried out on Caremark North Herts & Stevenage. Care Manager, Claire Evans, feels constantly inspired by the team.

"This truly was a group effort and something we're proud to celebrate together. By putting our clients' needs first, we've built a compassionate culture which helps to maintain a high standard of care. Offering excellent service and preserving the dignity and independence of our clients remains our highest priority."