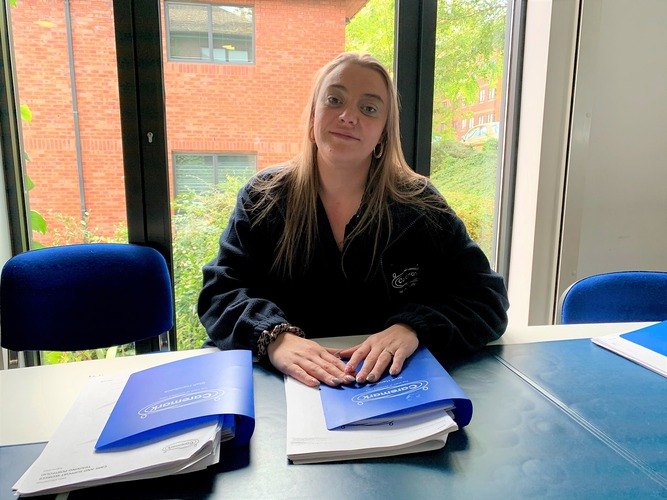 20 Nov 2019
Caremark People - Sarah
When you are mentioned at the funeral of someone you provided the care for, then you know you have done your job well.
That's what happened to Sarah Hollingsworth, one of our Care Coordinators at Caremark Leeds.
Sarah, along with four of our carers, was singled out by the man's family for the quality of care which ensured he could remain in his own home in his final years, months, weeks and days.
That's just one of the reasons why Sarah chose care as a career.
It started for Sarah when she looked after her Nan. This experience led to a job in residential care and subsequently into home care when she joined Caremark, initially as a Field Care Supervisor, in 2016.
Now as a Care Coordinator she has responsibility for overseeing the delivery of the care we provide, working closely with our Manager, Field Care Supervisors and Home Care and Support Workers, as well as social workers.
She also continues to do care calls herself to cover holidays and sickness.
Sarah says: "Working in home care is much better than residential care. With our support, people are able to keep their independence when they are in their own home, and it's nicer for them to be in familiar surroundings.
"I have always enjoyed working for Caremark. You are respected and recognised for the work you do and it's very rewarding."
Recently, one of the customers who Sarah was ultimately responsible for passed away. He lived close to Sarah.
She said: "His family knocked on my door at 3am in the morning because they wanted me to be one of the first to know he had died.
"We were invited to the funeral and his family asked for his carers to stand near the hearse when his coffin was carried to the church.
"During the service they then mentioned Caremark and the great care we had provided.
"That was so touching."
When she's not at work, Sarah enjoys spending time with her family although she admits that she is never really off duty.
She explains: "Providing care in a big city like Leeds has a lot of challenges, one of the biggest being the traffic and being able to get to and from customers' homes.
"So, it's common for me not to be at work, but to message the office to tell them to avoid certain roads if I am caught up in congestion or see an accident."