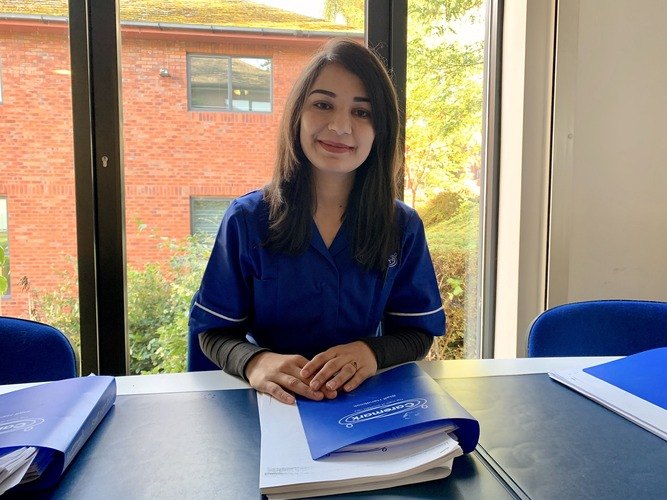 20 Nov 2019
Caremark People - Sadaf
Wife, mother, student, interpreter and carer – it's fair to say Sadaf Hafeez has more than a few strings to her bow. And she's only 28!
Sadaf joined Caremark Leeds in January 2019 and has quickly become popular with customers and colleagues alike.
Before becoming part of our team, Sadaf's only previous experience of care involved looking after her grandfather and her own children, but it was clear from the outset that she has a natural aptitude for helping others.
She's also a very hard worker and keen learner, in more ways than one!
Having come to Leeds from her native Pakistan just over four years ago, Sadaf began taking GCSEs, which she passed with flying colours and is now undertaking a course that ultimately she hopes will lead to a place at University where she wants to use her passion for science and care to do a job like physiotherapy or dental therapy.
Working at Caremark Leeds provides her with the best of both worlds because she works on mornings and lunchtimes, so she is around to pick up her young son from nursery and two days a week are also spent studying at college.
Sadaf says: "I love being a carer. It's so rewarding knowing you are helping people remain in their own homes and making a big difference to their lives.
"I love making connections with new customers and knowing my regular customers look forward to my visits.
"Working here has improved my confidence, decision making and problem-solving skills, and it gives me so much satisfaction."
In her spare time, Sadaf is learning to become an interpreter due to being able to speak four languages – English, Urdu, Kashmiri and Punjabi – and enjoys spending time with her family, playing badminton and going to the gym.
*Sadaf was named our Carer of the Quarter for July to September.