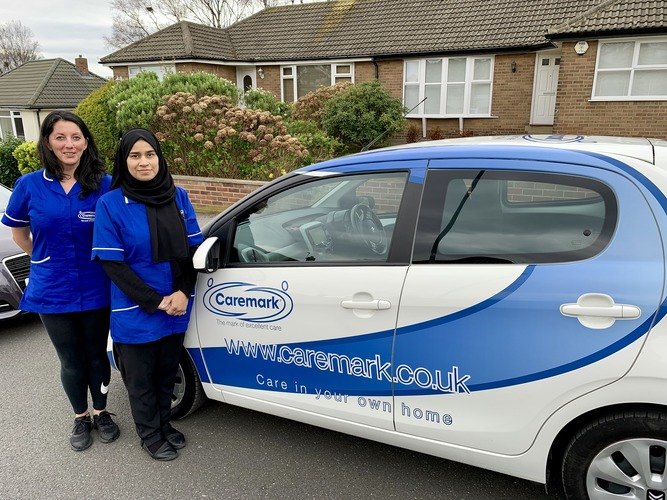 23 Apr 2019
Caremark People - Agnieszka and Shilpe
In the latest of a series of features looking at the people who make Caremark tick, we find out why Agnieszka and Shilpe make such a good double act.
That's because the pair can regularly be found doing a 'double-up', the term given when, because of clients' care needs, two people are required to be present.
Agnes (as she likes to be known) and Shilpe come from very different backgrounds, Poland and Bangladesh respectively, but they have forged an excellent relationship which really does benefit our customers.
Shilpe explains: "I shadowed Agnes when I first started working for Caremark and she really took me under her wing and taught me a lot.
"We work independently as well, but we do get a lot of double-ups and work really well together."
Shilpe joined Caremark in 2018 after previously being a self-employed home care worker.
She said: "My children are getting older so I wanted to start working full-time and caring is something I have always enjoyed.
"It's important to me to help the older generation and from personal experience, it was difficult for me when my mum and dad in Bangladesh got to the stage of their life where they needed support and I was so far away.
"My day starts at 5.30am when I get up to pray and my first call is generally at 7am. I always like to be home to see my children when they finish school, then I am back out and I won't get home again until 8.45pm.
"The days can be long, but knowing I am helping people to remain in their own homes by providing care for them, means a lot to me."
Agnes has worked for Caremark for three years.She says: "I like being a carer and helping people and you get to meet lots of nice people.
"For many of the people we visit, the social interaction is just as important as the care, and I always feel that if we leave people with a smile on their faces, then that shows we are doing our job well."