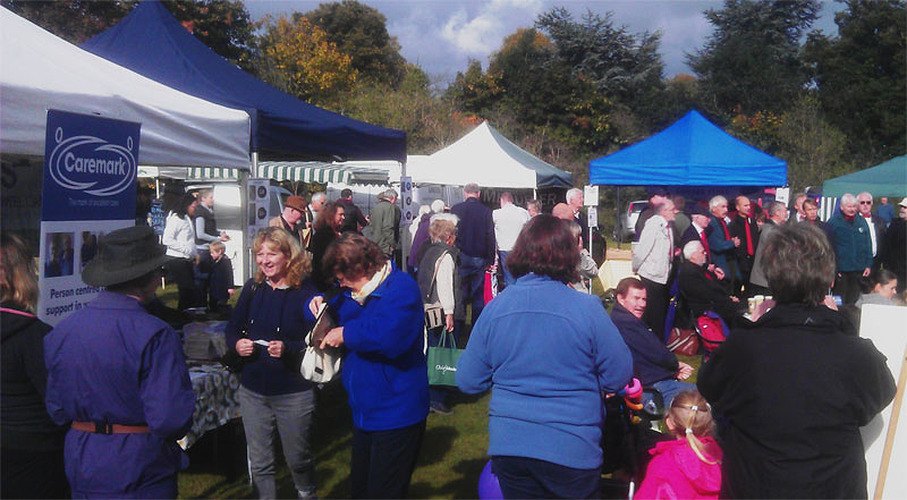 16 Oct 2012
What do Caremark, a barbershop harmony group and antique farming equipment all have in common?
Ripley Farmers' Market proves a great success.
They were all part of a very successful event on Saturday morning! The Ripley Farmers' Market, held on the second Saturday of every month, epitomises what a locally supported and community run event should be.
Beginning at 9am and lasting until 1pm, a steady stream of people kept on arriving to see what the local producers had on offer this month. Beautiful breads, fine-looking fruit and moreish meats were all available to the public and I can especially recommend the venison burgers that provided a great lunchtime treat!
David and Deborah Porter attended the event (less than half a mile away from their office) under the community stand so locals could see what services were available from their local home care provider.
Many people live with the reality of a friend or relative who needs care. Caremark understands that this can be a stressful and distressing time and are able to offer a free home care assessment to discuss available options.
At around 10:30am the market was greeted by the sight of around 25 gentlemen who entertained us all with songs from yester-year like "When I'm 64" and "Hello Mary-Lou". Noticeable from their vibrant red neck ties and bow ties, the Surrey Fringe Barbershop Chorus showed great enthusiasm and enjoyment whilst showing off their very impressive four part harmonies.
The community event proved to be a great success, of which Caremark (Guildford and Woking) were very proud to be a part of. David Porter, Caremark's Managing Director, says, "The event was great fun, but most importantly showed the real community spirit held within Ripley!"