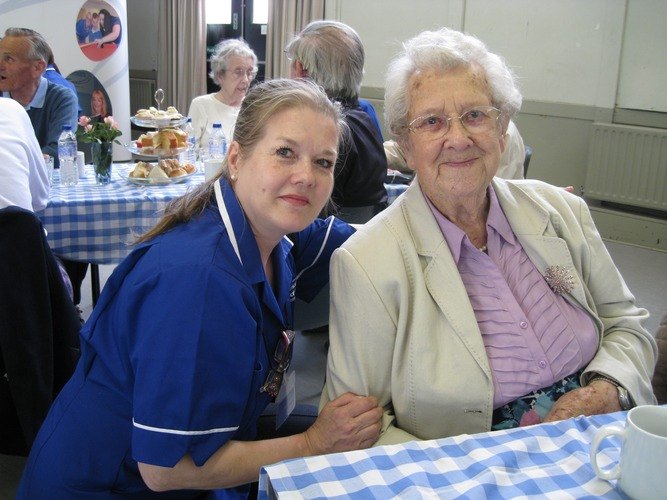 12 Jun 2017
Ninety-eight year old home care client enjoys Caremark's Summer Tea event
Caremark (Guildord & Woking) hosted a special afternoon Summer Tea for their clients last week in the local Village Hall.More than thirty people were treated to a sumptuous afternoon tea, with the cakes and sandwiches made and provided by the staff at Caremark (Guildford & Woking).
By special invitation, the Mayor of Woking, Cllr Graham Cundy and his wife the Mayoress, Sarah Cundy, attended and enjoyed an afternoon of meeting some of Caremark's clients and hearing their stories. Long-time Merrow resident Joan Boxall, 98, came with her friend Hilda Ansell and said: "We are having a lovely time. This is such fun!"
Joan, the only surviving sibling of a large family, was born in Merrow, baptised in her local church, St. John the Evangelist and has lived in the village ever since. Next year Joan will be 100 years old and is already planning a large family party in celebration of this landmark birthday. "I hope to live to be 100 because then I will have been in Merrow Church for 100 years! I was baptised there when I was a month old and have been going every Sunday ever since", she said.
There was also musical entertainment courtesy of Caremark's very own songbird! Financial controller Jacqui Clack, who runs her own choir outside of work, delighted her audience with her warm and resonant voice, singing some old favourites and getting everyone joining in.
A Quiz later in the afternoon tested general knowledge with two large fruit baskets being presented to the winner and runner-up.The combined efforts of the Caremark team ensured their clients had a fun and stimulating event together with all the refreshments an afternoon should offer.
Commenting on the event, Managing Director, David Porter said: "It was a very real pleasure to welcome our clients to what has become our annual afternoon tea event. "It was great to have the Mayor and Mayoress of Woking with us and engaging so enthusiastically with our clients.
"Our management team, together with our Care & Support Workers, did a sterling job in preparing for and ensuring that the event was enjoyed by all in a fun and entertaining atmosphere."