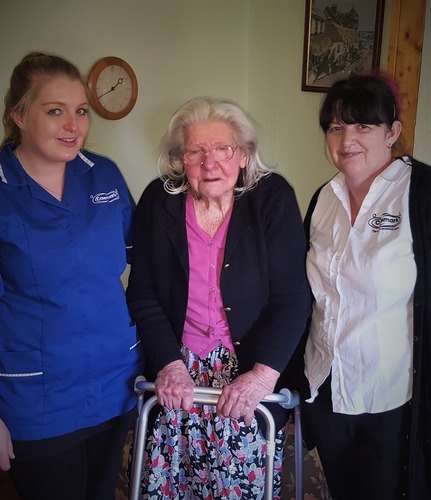 23 Mar 2018
Caremark to the Rescue!
The lovely Jean has been a Caremark client for some time when her regular Care and Support Worker, Amy, noticed she was starting to struggle to get around the house on her own. Amy reported her concerns to our Care Manager, Clare, who immediately initiated action to resolve the problem. With Jean's permission, Clare contacted social services and Jean's Occupational Health Therapist, who advised Jean to get a walking frame and some new slippers.
As Jean was unable to go to collect her frame or find someone who could do it for her, Caremark stepped in to help. Management duo, Clare and Wendy, Caremark's Office Manager, set off to collect the essential equipment. Upon collection, the shop manager couldn't hold back his amazement saying "I've never known a Care Agency to step in like this". Clare and Wendy were delighted to deliver the frame to Jean who, as a result, was able to be more independent and safe getting around her home.

A huge well done to Care and Support Worker Amy for her recognition and reporting of the issue and to Clare and Wendy for their swift action and delivery of a solution. And if that wasn't enough, whilst in Jean's home, Wendy noticed her curtain rail was broken, preventing Jean from opening her curtains to let in the natural light. So off they went to buy and fix a new rail! Now Jean can open her curtains safely. Jean was very grateful to the Caremark team and beamed 'ooh it feels like Christmas!'.

We are very proud at Caremark to put our Clients first in all that we do and we actively seek to help improve their independence and help out when there is a problem. We are only able to do these things due to the care and amazing dedication of all our Caremark Team. Thank you!