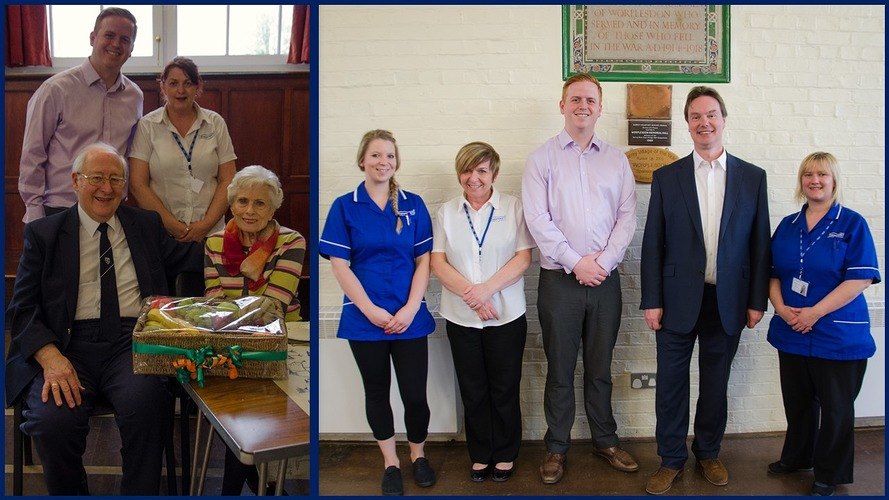 30 Apr 2015
Caremark (Guildford & Woking) Springtime Afternoon Tea
Caremark (Guildford and Woking) held a Springtime Afternoon Tea event in Worplesdon Memorial Hall on Thursday 16th April. Clients from the Guildford and Woking area attended and very much enjoyed afternoon tea and cakes, a quiz and talk from guest speaker, namely Jonathan Lord, a local MP.
In celebration of Spring, arrangements of daffodils were placed on each table. Tea, coffee and scones & cream with cakes were provided. It was a great opportunity for Caremark Care & Support Workers and office personnel to meet clients in a family celebration type atmosphere.
There was a lively participation in the quiz produced by our Office Manager, Wendy Lillywhite. In the end there were joint winners, one of which was presented with a fruit basket and the other who chose chocolates.
David Porter, Managing Director, welcomed everyone and introduced the guest speaker, Jonathan Lord. Jonathan gave a very interesting talk. As one whose wife is a client of Caremark (Guildford and Woking), he said, "We, as a family, needed help for my wife. Following a stroke, we were in great need of care. Wonderful carers from Caremark have been helping us and I want to thank everyone at Caremark for providing us with an excellent experience. My wife has made good progress and the professional care, which has been kind and genuine, has greatly contributed to our very good experience. Our entire extended family is very grateful for all that the wonderful Caremark people did for us. Thank you for inviting us all to this wonderful party."
As a family business, David and Deborah Porter, the company directors, and Deborah's parents were all in attendance engaging with clients.
Clare Tombs, Care Manager, has received telephone calls and messages from very appreciative clients. These include, "Thank you for the afternoon tea. The scones went down a treat. When is your next one?" One of the winners of the quiz who received the fruit hamper, on returning home from the tea party telephoned with the message, "An excellent tea party - it went very well indeed. A job well done! We were delighted to finish as joint winners of the quiz and receive the hamper. To Clare, Wendy and all of the team - thank you very much indeed and God bless you all."