Did you know that most computers have options built into them to make it easier for people with low or no vision to use them.
Click for information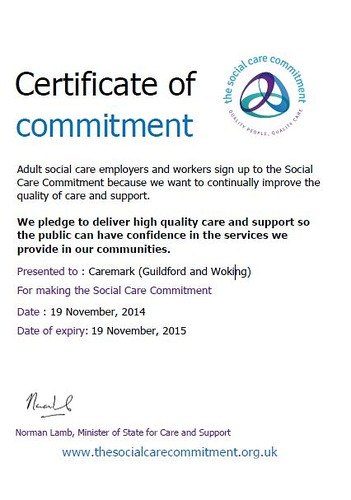 19 Nov 2014
Caremark (Guildford and Woking) make the Social Care Commitment
The Social Care Commitment is a voluntary agreement between all parts of the adult social care sector in England to improve workforce quality. We have signed up to a series of statements and committing to deliver quality care and support.
At Caremark (Guildford and Woking), all our team have always been committed to achieving the highest possible standards of care, training and staff support. By signing up to the Social Care Commitment we have joined many other individuals and organisations in committing to delivering only the highest standards of Care and Support.
Making the commitment involves agreeing to seven statements and choosing tasks that help Caremark (Guildford and Woking) put the commitment into practice.
We pledge to deliver high quality care and support so the public can have confidence in the services we provide in our communities. If you are looking for high-quality care for yourself or a loved one, please call our office on 01483 222 852.