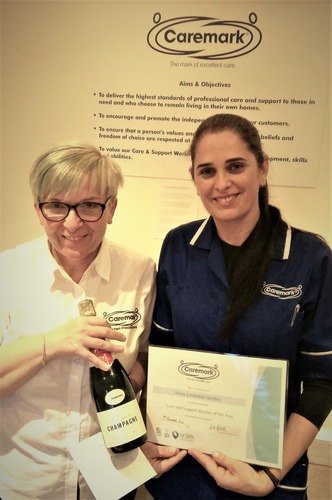 07 Dec 2016
Care and Support Worker of the Year 2016
Last week, we announced who our team had voted for, to win this year's Care and Support Worker of the Year award.
"Very caring and works hard. A pleasure to work with!"
"She works with her heart and she gives all the time to the care of her clients. She does everything she can to help them!"
"For her teamwork, respect for the clients and colleagues".
These are just some of the kind words expressed about this year's winner, Esmeralda.
Esmeralda has shown incredible dedication to her role as a Care and Support Worker while maintaining a very professional and dignified manner. She is a joy to work with.
The photo is of Clare, the Registered Care Manager, awarding Esmeralda with her certificate, champagne and voucher.
Upon receiving the award, Esmeralda reacted with real humility in sharing that "this should be awarded to everyone in the team!".