Did you know that most computers have options built into them to make it easier for people with low or no vision to use them.
Click for information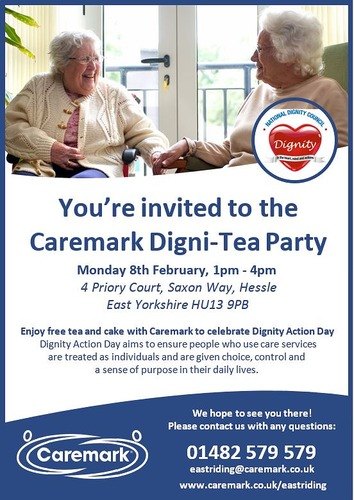 08 Feb 2016
The day has finally arrived!
Caremark will be taking part in the 'Digni-Tea' Day. This event will be hosted on Monday 8th February within our offices.
Carers, are you wanting to further your Professional Development? Why not sign up to become a Dignity Champion during our event? It is FREE, simple and an easy process, all you have to do as a Dignity Champion is: *Stand up and challenge disrespectful behaviour

*Act as good role models by treating other people with respect, particularly those who are less able to stand up for themselves
*Speak up about dignity to improve the way that services are organised and delivered
*Influence and inform colleagues
*Listen to and understand the views and experiences of citizens.
All care staff will be presented with a certificate after signing up, if you wish you could purchase a badge from the Dignity Champions website at the cost of £1!