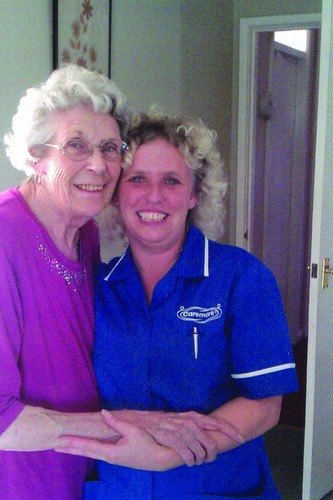 24 May 2013
Rapid rise for Teresa
A woman who was unemployed just 12 months ago now has responsibility for supervising the work of 12 carers employed by Caremark (East Riding)
It took Teresa Pawson just three months to be promoted to the position of Field Care Supervisor at Caremark (East Riding), after initially being taken on as a carer.
The 41-year-old, who lives in Shiptonthorpe, near Pocklington, had not even considered a career in care until she was suddenly made unemployed in 2012 and was left wondering how she would provide for her two teenage children.
Teresa immediately enrolled on a Jobcentre Plus-backed training programme provided by Bishop Burton College which aims to get unemployed people back to work quickly. It is supported by local employers like Caremark (East Riding).
Within eight weeks she had successfully gained a City and Guilds accredited Level 2 Certificate in Health and Social Care and been offered a job working as a carer for Caremark (East Riding) in the West Wolds area.
Teresa said: "Until I started the course the only experience I had in care was looking after my dad who was dying from cancer.
"After being out of education for so long I was worried about going back to school but I really loved it and when I was offered a job by Caremark I was absolutely delighted.
"I took to professional caring very quickly and I was surprised but very pleased when so soon after I started I was promoted to the position of Field Care Supervisor.
"I now have responsibility for overseeing the work of 12 carers and liaising with our service users to ensure they are happy with the care they are receiving. I still do some caring because I didn't want to give this up completely as I enjoy it so much."
Graham Precious, Managing Director of Caremark (East Riding), said: "Teresa is a good example of how having no previous care experience is a not a barrier to being successful in the care industry.
"She had previously run her own company and along with general life experience and a positive attitude towards her work, it was very quickly clear to us that she had all the attributes needed to succeed in a senior position within Caremark."
Andy Black, Director of Services to Business at Bishop Burton College, said: "We only offer qualifications that significantly improve the chances of gaining employment and all courses are designed in conjunction with local employers looking to recruit.
"We are constantly talking to employers about staff shortfalls and as a result we have been able to help people like Teresa find gainful employment."