Did you know that most computers have options built into them to make it easier for people with low or no vision to use them.
Click for information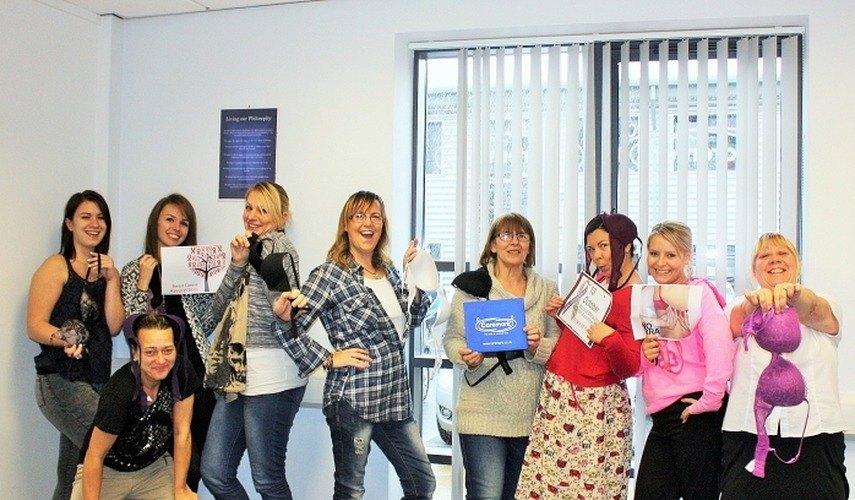 14 Oct 2015
No Bra Day for Breast Cancer Awareness
Nine of Caremark (East Riding)'s staff posed for photos to show their support for 'No Bra Day'. No Bra Day is meant to promote breast cancer awareness and to help raise money for research.
October is Breast Cancer Awareness Month and National No Bra Day should serve as a reminder for all women to check their breast and to make sure they go for screening.
Facts and Statistics 2015
Every year nearly 55,000 people are diagnosed with breast cancer in the UK, that's the equivalent of one person every 10 minutes
1 in 8 women in the UK will develop breast cancer in their lifetime
Breast cancer is the second most common cause of death from cancer in women in the UK
Nearly 12,000 people die from breast cancer in the UK every year
Breast cancer also affects men, but it's rare - around 400 men are diagnosed each year.
The three main risk factors:
1. Gender - being a woman is the biggest risk factor for developing breast cancer.
2. Getting older - the older the person the higher the risk, more than 80% of breast cancers occur in women over the age of 50. Most men who get breast cancer are over 60.
3. Significant family history - this isn't common, around 5% of people diagnosed with breast cancer have inherited a faulty BRCA1 or BRCA2 gene.