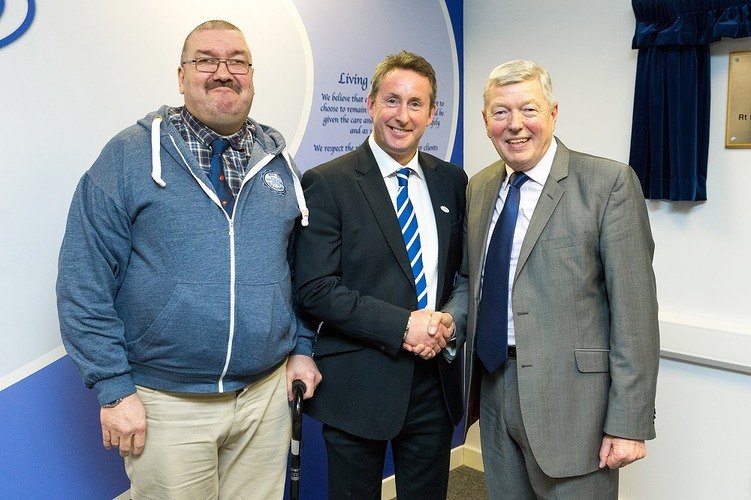 25 Mar 2015
New Caremark (East Riding) office opened
Due to continued expansion, Caremark (East Riding) has opened new, larger offices.
A man with a learning disability who is living independently for the first time in his life has opened the new offices of Caremark (East Riding).
David Beech, 47, joined Hull and Hessle MP Alan Johnson in officially opening our new offices in Priory Court, Saxon Way, Hessle, near Hull.
Caremark (East Riding) provides 'floating support' to Mr Beech, who has suffered two strokes and several nervous breakdowns, as well as a number of health problems including rheumatoid arthritis and curvature of the spine. This support includes cleaning Mr Beech's home in Howden and helping with his budgeting and shopping.
Mr Beech says: "Caremark have been absolutely marvelous and I can honestly say that without their support I think I wouldn't be living in my own home, but would probably be in a mental health hospital.
"I have been in and out of care all my life and I have been told many times that I would never be able to live in my own home, but thanks to Caremark I am proving everybody wrong."
They have made such a difference to my life and I was delighted to be able to open their new office."
Alan Johnson MP said: "I remember opening the previous Caremark offices five years ago and I knew then that this company would do well, and the new, larger office is evidence of this.
"They have supported significantly with employment in the area and helping many individuals with care in a very difficult sector."
Caremark (East Riding) Managing Director Graham Precious said: "We have come a long way since opening in June 2010 and as demand for our services has grown, it meant we had outgrown our old office in Hessle.
"Our new office will enable us to expand even further and the aim is to create hundreds more jobs over the next 12 months to allow us to continue this growth.
"We are committed to helping people like David and ensuring they receive person-centred care in their own homes."