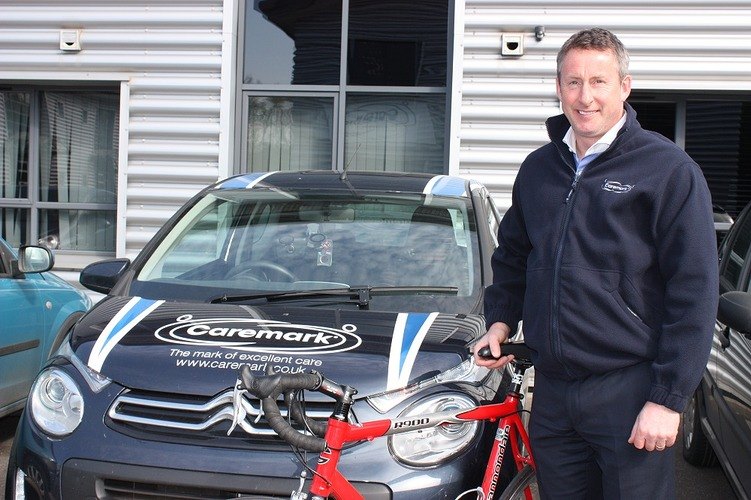 04 May 2015
Graham prepares for charity bike ride
Caremark (East Riding) Managing Director Graham Precious is preparing to cycle the length of Great Britain in the Caremark JOGLE, to raise £100,000 for the fight against dementia
Graham Precious will ride 1,000 miles from John O'Groats to Land's End in September this year.
He is joining seven of his colleagues from the Caremark network to tackle the grueling ride, which will see the team covering 100 miles a day over ten days.They are aiming to raise £100,000 for the Alzheimers' Society, a charity which provides support to many Caremark customers across the UK.
They have already received £15,000 towards the cost of staging the event, from the national Caremark company, and the Professional Footballers' Association (PFA) have pledged £5,000.
Graham, aged 49, who lives in Elloughton, said: "This is going to be a very big challenge for me, and I have never done anything like this before, but I am determined to complete the ride and reach our £100,000 target.
"Many of the people we provide care for have dementia and I know how devastating this can be on them and their families, so this is a charity very close to my heart."
Graham, who with his wife Karen runs the largest Caremark franchise in the UK and Ireland, is now in full training for the ride.
He added: "I am currently riding around 150 miles a week and my aim is to build up gradually so by the time it comes to the ride in September I am at peak fitness for what I know is going to be a very tough, both mentally and physically, experience.
"I have already had fantastic support from colleagues, friends and people who use our services at Caremark (East Riding) and I certainly won't be letting anyone down."
Graham and his fellow riders are now organising a number of local, regional and national fundraising events to help them meet their £100,000 target.They have set up a Just Giving page which can be viewed at
www.justgiving.com/caremarkjogle
People can also text CMJL70 then the donation amount to 70070 or alternatively contact Graham at the Caremark (East Riding) office on 01482 579579.