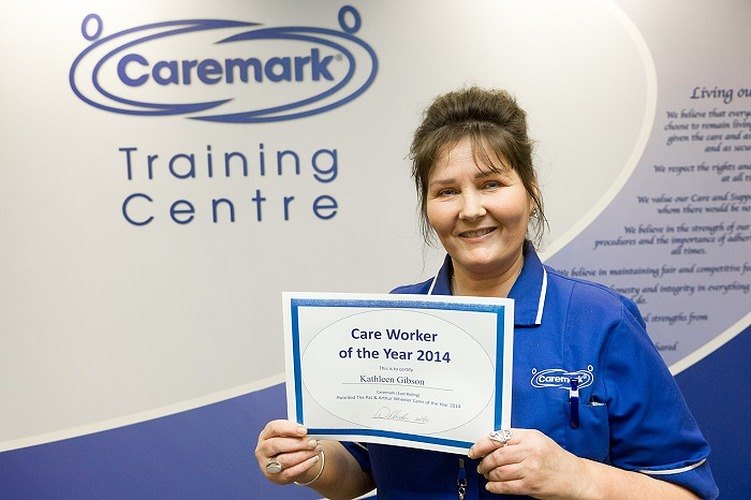 06 Jul 2015
Caring Kath wins award
A woman who works tirelessly caring for old people in rural parts of East Riding has won Caremark (East Riding)'s Care Worker of the Year Award
Kath Gibson was the unanimous choice of the management team at Caremark (East Riding) as they selected their 2014 Care Worker of the year.
The 49-year-old, who lives in Hull, only joined Caremark in April last year, having previously worked in retail.
The person who nominated her, Caremark Field Care Supervisor Suzy Parkinson, said: "Kath is an amazing person and a carer in every sense of the word. There is not one person she cares for that does not love her.
"She goes above and beyond for everyone and always has a smile on her face. She works hard and never complains."She is a real credit to the company and one special lady."
Kath, who has four children and one great grandchild, became a Care Worker after years working in the toy department of Woolworths.
Keen to do something she different, she then undertook a number of courses, including psychology and neuro linguistic programming, which is communicating effectively with people.
Although Kath lives in Hull, her clients are in the West Wolds area. She estimates she drives up to 150 miles each day visiting clients, who normally receive four 30-minute visits in a day.
Kath says: "I have love my job from day one and looking back I wished I had started caring earlier.
"It's the personal side and meeting and helping people with different personalities and needs that I really enjoy.
"I couldn't believe it when I was told that I had won the Care Worker of the Year award, especially when I haven't been with the company that long, but I am so happy and proud."
The Caremark (East Riding) Care Worker of the Year award is sponsored by Arthur and Pat Wheeler, a couple who receive care from Caremark. They give £50 and a certificate to the winner each year. The company then adds a further £50 and presents a bouquet of flowers to the winner.
Caremark (East Riding) Managing Director Graham Precious said: "Kath is an outstanding carer and whilst we had some very good nominations she was our unanimous choice for the award.
"She typifies the types of carers we have and thoroughly deserves all the praise she gets. She is a real credit to the company.