Did you know that most computers have options built into them to make it easier for people with low or no vision to use them.
Click for information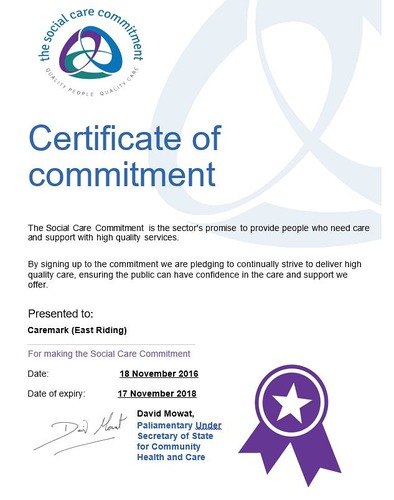 22 Nov 2016
Caremark show their commitment to 'quality', to 'The Social Care Commitment'!
The Social Care Commitment helps to show the Care Quality Commission (CQC) that we are meeting their essential standards.

The Care Quality Commission are supporters of the Social Care Commitment.

CQC recognises that the leadership and culture of an organisation, and the support and training of staff, have a significant impact on the quality of care experiences by people who use services. CQC fully supports the Social Care Commitment and will assess the culture and leadership of services as part of its new approach to inspection.
It is made up of seven 'I will' commitments, with seven associated tasks. Each commitment will focus on the minimum standards required when working in care. The commitment aims to increase public confidence in the care sector and raise workforce quality in adult social care.
Caremark (East Riding)'s statements;
Statement 1:

| | |
| --- | --- |
| Recruiting the right staff: I will take account of potential employees' values, attitudes and behaviours when recruiting new staff. | |
| Task: Ensure everyone involved in recruitment has a full understanding of fair selection methods and data-protection issues. | |
| How will tasks be met: I will reinforce all staff to ensure a smooth and robust recruitment process. I will ensure that all staff involved in the recruitment process are supplied with all the relevant information and are fully up to date with the Social Care standards and offer correct training in order to support each individual, in hope to increase or enhance their recruitment skills, ensuring that people are given a fair chance of being part of the Caremark team and using the correct selection method. | |
Statement 2:
Thorough induction: I will provide thorough induction for all new staff and for those changing job 2 roles.
Task: Monitor inductions to assess that they are appropriate and successful and provide documentary evidence that each worker agrees that such training has been received.How will task be met:Training Manager will continue to develop their own skills by attending other training sessions, Training Manager is currently working in line with Skills for Care ensuring new staff members are completing the Care Certificate training programme safely who also are receiving support from the Field Care Supervisor. We will also Interact with fellow inductees, and review all completed paperwork to ensure others have an understanding and whether they believed they think the training was valuable, understood and retained.
Statement 3:
Supporting skills: I will provide timely, appropriate and accessible education, learning and development opportunities to enable my employees to develop and strengthen their skills and knowledge.
Task: Keep up to date with the range of learning resources available for employees, always looking to maximise the opportunities available.
How will task be met: I will enable SMART targets (specific, measurable, agreed upon, realistic, time-based), helping support staff in helping further their education. We will continue to offer all training to all staff and meet the staff requirements as and when requested whilst also keeping staff in date with their 'mandatory' training.
Statement 4:
Upholding standards: I will encourage everyone I employ to sign up to the Social CareCommitment and to commit to any codes, standards or registration systems applicable to their job role.
Task: Incorporate review of the Social Care Commitment into team meetings, supervisions and appraisal processes.How will task be met:I will ensure that the whole of the workforce is informed of the information provided by the Social Care Commitment in hope to help to work towards improving quality and raising standards required, working towards the development regulations required by the Care Quality Commission (CQC). By doing so, I will encourage employees to commit to Social Care Commitment, information to be given, during our meetings, supervisions and appraisals.
Statement 5:

Taking responsibility: I will take responsibility for the values, attitudes and behaviours that my employees display at work, including upholding and promoting equality, diversity and inclusion.
Task: Encourage workers to become dignity champions and actively engage in steps to keep abreast of information, advice and best practice examples.
How will task be met: We will continue to encourage others to become dignity champions, during our training sessions, this is offered to new and existing staff. Staff will be continued to be offered to become dignity champions during our 'Dignity Action Day' events.
Statement 6:
| | |
| --- | --- |
| Effective supervision: I will regularly monitor the skills and behaviour of everyone I employ, ensuring that feedback is encouraged from anyone they support or have direct contact with, including families and carers. | |
| Task: Provide effective training for supervisors.How will task be met: We will continue to offer further training sessions to all supervisors during our 'weekly' meetings and within our supervisions and will put into immediate action to ensure supervisors feel valued, skilled and appreciated at all times. | |
Statement 7:

Supporting staff: I will work to ensure a positive culture and working environment where all employees are supported to do what they've said they will as part of their Social Care Commitment.
Task: Offer support and learning opportunities.
How will task be met: All staff will be continued to be offered the opportunity to grow within and further their education within the workforce allowing them to feel focused, skilled, supported and upskilled. We will ensure we remain to have a positive attitude and promote 'culture'.