Did you know that most computers have options built into them to make it easier for people with low or no vision to use them.
Click for information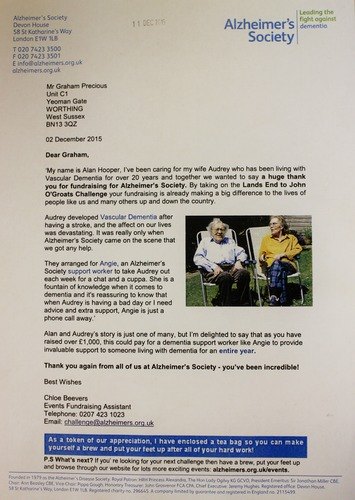 17 Dec 2015
Caremark receives a letter from the 'Alzheimer's Society'
Caremark receives a letter of 'thanks' from the 'Alzheimer's Society' for raising substantial funds during the 10 day JOGLE event.

Due to the funds raised, Caremark have now been able to help those that are living with Dementia!
Graham Precious added
'We cannot put into words the feeling you get receiving a letter like this. This just sums up the reason to why all the blood, sweat and tears was worthwhile, during our 10 day journey.'

'It is such a warm feeling knowing that the huge funds raised means other people out there are now able to LIVE with Dementia and families are been able to get the support they need too.'
Once again, well done to the JOGLE riders – Graham Precious, Charles Folkes, Joe Daly, Ravi Patel and Mark McKenning for making this happen!