Did you know that most computers have options built into them to make it easier for people with low or no vision to use them.
Click for information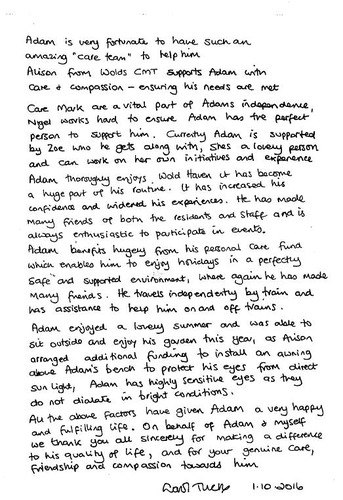 07 Oct 2016
Caremark receive lovely feedback from client's mother!
Caremark received a very detailed letter from the Care Management Team which was sent in by our client's mother Carol Tuck. The feedback Carol has given in the letter for all parties involved with Adam is truly beautiful.
Carol today also added that Nigel Dove, West Wolds Field Care Supervisor is brilliant; he is always willing to support Adam in the best possible way and generally has Adam's best interest at heart. Nigel is very aware of Adam's needs and ensures he receives the most suitable Care & Support Worker.
Zoe Jacobson was assigned as Adam's Care Worker and Carol has stressed to Caremark that Zoe really is making a difference to Adam's life! She doesn't ever need to be told what is required, she uses her own initiative and just gets on with it. She really is lovely, caring person.

Well done team West Wolds!