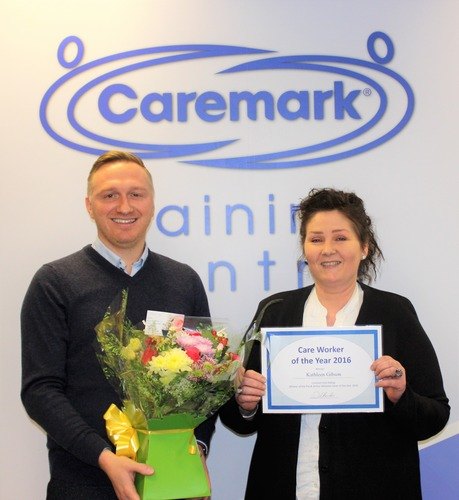 15 Feb 2017
Care Worker of the Year Award 2016, goes to KATH GIBSON from the WEST WOLDS area
Below is just some feedback received from clients families. Supervisor Nigel Dove leaves every Care management meeting feeling very proud of Kath from all the excellent feedback given from the professionals.
Anne & Don C & Vanessa of client - Mr. GM said;
Kath is an absolute diamond she is fantastic with the care and support she gives to Mr. GM and encouragement to help him with his day to day needs there is never a problem that Kath doesn't overcome and without this support Mr. GM wouldn't be at home today.
Brenda, daughter of client - Mrs. PC said;
Thank goodness mum has such a wonderful carer who looks out for mum she is fantastic and we can always tell when Kath is on as mum is so much more relaxed and Kath has been amazing since mum has been discharged from hospital.
P and G S Son and Daughter in law of client SS said;
Kath is wonderful and always does her best to Support mum she is an asset to your company and also we can relax in the knowledge that mum is well cared for.
The Family of Mr EA wrote in to say how delighted they were with the caring service and support we provided once again Kath is the main driver of that.
Mel T daughter of client - Mrs. K T said;
Kath is brilliant with mum and always kind caring and supportive especially when her mum isn't so well.
The Family of Miss. AB said;
Kath is brilliant with Miss. AB and Miss. AB looks forward to Kath going and the Chats they have. Kath out shines any other carers that we've had.
In Kath's Supervisor's words 'I can honestly say it's a pleasure and a privilege to have Kath on the West Wolds Team, Kath is a reliable member of the team who will always do what she can to support the rest of the clients.
Very well deserved Kath, well done.