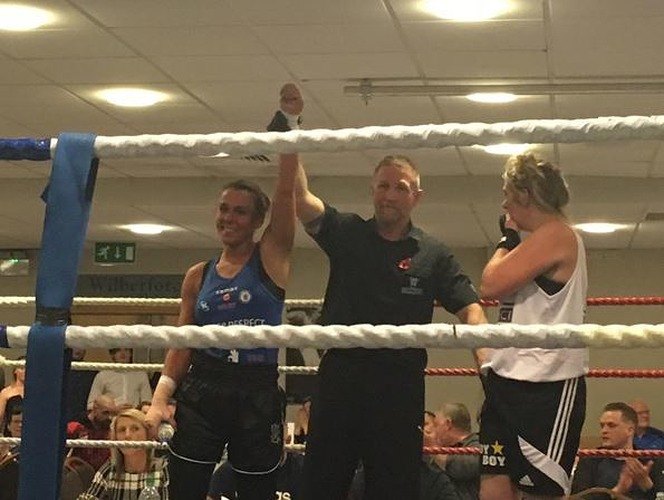 22 Nov 2016
Care worker Kerry packs a big punch for mental health charity
Learning to box was not high on the list of priorities for Kerry Nightingale, Caremark (East Riding) Care and Support Worker, until a friend suggested she learn Boxercise at their local boxing club.
Although Kerry enjoys sport and is naturally strong, she had never tried boxing. Once in the ring, she was amazed at what an incredible sport it was and how much she enjoyed it.
Kerry's potential was quickly spotted and her 'coach' persuaded her to box in a charity match at the KC Stadium in aid of mental health and in memory of well-loved local man, Roy Bennett.
Having accepted the challenge, Kerry began to panic thinking she would never be fit enough to box for 3 consecutive rounds. With the match only 4 weeks away, Kerry started a rigorous programme, training for 1 ½ hours, three times a week, building up her technique and fitness with each session.
Reflecting on the experience Kerry said: "It was such an amazing feeling being in that ring as well as being quite daunting, but you know that you are doing something really worthwhile and raising money for charity at the same time."
Colleagues came to support Kerry on her big night and watched her box her way to a well-deserved win! Although her opponent was taller and bigger in build, Kerry's solid training saw her easily win her three rounds.
Asked if she would recommend the sport to others, Kerry said: "Yes definitely! It's an amazing way to get fit and exercises your entire body, including your mind because you need mental agility as well as strength and fitness."
The overall event was a huge success with funds raised on the night in excess of £6,500 with more still to come in.
With one notable win under her belt Kerry has already been asked to fight more charity matches next year. As yet, she has not decided if she will step into the ring again and face a new opponent. By all accounts, she is a real knockout!